Shires Land & Property Ltd
We supplied two bespoke painted 20ft containers to Shires Land & Property Ltd to expand their self storage offering.
Shires Land & Property Ltd manages Shires Bridge Business Park and Shires Self Storage, located conveniently off the A19 in Easingwold. The business park features an impressive, refurbished mill building surrounded by 31 business units and a self storage site that holds 68 20ft shipping containers.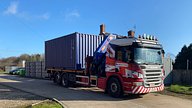 We have worked with Shires Land & Property Ltd since 2019 and have supplied 22 20ft shipping containers to the firm. Twelve of which are painted grey to compliment the surrounding business park units. The remaining ten containers are in our standard RAL 5010 blue colour, located in the self storage premises.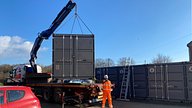 Due to a spike in demand for storage solutions, the firm is looking to increase its self storage offering. Until they flatten further land behind the current self storage site, they have chosen to add containers around the business park. The only space free was at the park's entrance. With customers waiting for units next to each other, they required two shipping containers to keep up with the demand.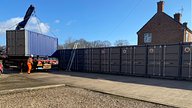 Cleveland came to us on a recommendation several years ago, and has been a great supplier since. Jonathan and his team are easy to deal with, and we've passed on their details to others, who also now use them.

David Willis, Director at Shires Land & Property Ltd
Shires Land & Property Ltd required the containers partially painted. We painted the front of the final two 20ft shipping containers and the left-hand side of one of them. Once the containers were placed alongside each other, you would not be able to tell they are partially painted!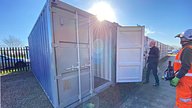 At Cleveland Containers, we offer a painting service from our Middlesbrough depot. We can accommodate paint requests including full, partial and multi-colour repaints. Check out our blog post about painting containers for more information or get in touch.
Need our help?
Talk to us about your container project today...
You may also be interested in...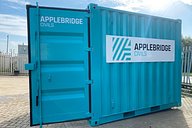 Applebridge Civils are part of the Applebridge family, a collection of businesses working within the construction industry.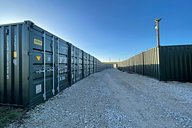 Family-owned business Scotts for Storage in Leyburn has been running for more than 20 years and offers our higher quality One Trip containers to their customers.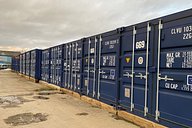 Self Store Newcastle are a self storage company that offers internal storage units as well as external storage containers in a wide range of sizes.