Shipping containers are versatile, financially and environmentally friendly and look cool too. This isn't just a passing fad, with some of the world's most renowned architects and companies embracing shipping containers to help solve poverty and the problem of population growth.
Take a look as we showcase some of the amazing ways shipping containers are used around the world…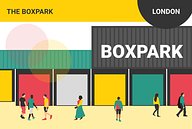 The Boxpark, London
The famous Boxpark, in the heart of London, was originally launched in 2011 as the world's first pop-up mall. CEO and Creator Roger Wade's design is made up entirely of refitted and bespoke shipping containers which offer affordable leases for the sites many luxury brands, eateries and cool bars. The Boxpark also made the leap to Croydon in 2016, winning awards and putting on hundreds of events every year. A further site in Wembley is coming in late 2018!
Find our more here.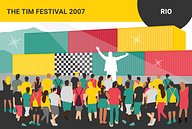 The Tim Festival 2007 – Rio de Janeiro
Music festivals are big business, quite literally, with huge structures erected and taken down in a matter of days. That's why the Tim Festival in Rio de Janeiro, Brazil, was such a breakthrough project in 2007. Renowned designer Bernardes Jacobsen put together a stunning and sustainable space with shipping containers as the centre piece. The use of colourful containers stacked on top of each other creates a bespoke and visually jaw dropping sight.
Find out more here.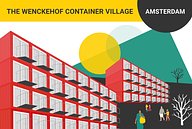 The Wenckehof Container Village – Amsterdam
Completed in 2006, the Wenckehof container village in Amsterdam, Holland, is the first development of its kind in the world. Made from 1,000 recycled shipping containers, the village formerly known as Keetwonen, was designed by Architect Quinten de Gooijer and his company Tempohousing. It has proven so popular with students and professionals alike that the Amsterdam authorities gave the Wenckehof permanent status in 2011.
Find out more here.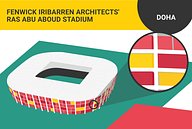 The Fenwick Iribarren Architects Ras Abu Aboud Stadium, Doha
Few events have caused as much controversy as the Qatar 2022 World Cup. However, away from all the political and sporting turmoil, there is some fascinating architecture work going on. Designed and named after Spanish architects Fenwick Iribarren, the 40,000-seater stadium is made from modified shipping containers and includes removable seats, stands and bathrooms that will be dismantled and moved to a new location after the tournament.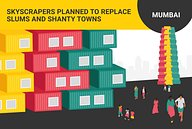 Shipping container skyscrapers – Mumbai
The problem of a rapidly increasing population and its connection to poverty, homelessness and slums or shanty towns can not be ignored. Thankfully top designers and architects are helping to combat the problem. For example, Ganti and Associates who have envisioned shipping container skyscrapers to provide temporary housing to the overpopulated Dharavi slum in Mumbai. The 100 meter high-rise would be made from a series of containers, supported by steel girders.
Find out more here.
Need Our Help?
Talk to us about your shipping container project today...
You may also be interested in...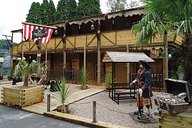 Gulliver's Kingdom is one of five theme parks from the Gulliver's Resorts family. Located in Matlock Bath, the theme park features a variety of rides and attractions with on-site accommodation available.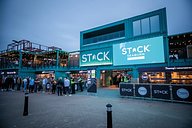 After the success and popularity of STACK Newcastle, the second venue is now open in Seaburn!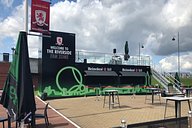 Cleveland Containers and Middlesbrough Football Club came together to create a fan zone space using shipping containers.