Following a record-breaking year of growth, the new Wolverhampton office is the latest expansion venture for Cleveland Containers who are delighted to also be welcoming Lewis Westley and Callum Davis to the company.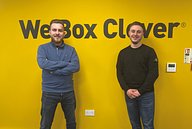 This additional base for Cleveland Containers is situated in a Grade II listed church conversion, which boasts fantastic rail links to London and other areas of the UK. Having this physical presence in the midlands allows us to attend more on-site meetings if required and reassures our southern customers that there is a point of contact closer to home.
Furthermore, we have launched some new products this year including containers in the colour RAL 5010 (a lighter blue than the one we usually stock). This colour container is already used by many businesses and self-storers in the south of England, so the inclusion of this item means we can cater to those who would like to keep their fleet consistent.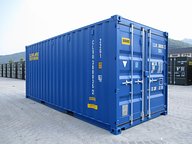 Whilst setting up shop in the new office, we also welcomed Callum Davis to the sales team. Fresh to the container industry, Callum has previously worked for Jaguar as a New Car Sales Executive and more recently as a Kitchen Salesman for Howdens Joinery. He joins fellow new-starter Lewis Westley, who is well-versed in container sales after beginning his career as an apprentice more than seven years ago.
Joining Cleveland Containers has been refreshing as I have never worked with a team of this scale. Everybody is great to work with and helped me settle in in no time. I enjoy speaking to different people each day and assisting them with their requirements, which is why I chose sales as my career path. Here at Cleveland Containers, everyone is working hard to expand and take the business to the next level which is the main reason why I joined. I can see a real goal here and it's great to see.

Lewis Westley, Sales Manager
Lewis and Callum join a whole host of new starters at Cleveland Containers as the sales, marketing, transport, and accounts departments have all benefitted from the addition of new members of staff during last year.
The container industry is new to me but I'm sure that my strong background in sales has given me the skills required to assist our customers with their needs and any questions they may have. I'm looking forward to working alongside the rest of the team, learning all about our products, and seeing how the business develops.

Callum Davis, Sales Manager
In 2020, we invested £1.2m into a new 6,000 square foot head office at Preston Farm Industrial Estate in Stockton-on-Tees, and a 2.6-acre depot and workshop in Grangetown, Middlesbrough, to allow for further growth as demand for our containers continues to increase.The addition of our second office in Wolverhampton and expansion of our southern sales team serve to strengthen our position in Wales and the south of England as the UK's leading container supplier.
Lewis and Callum have hit the ground running and made an impressive start here at Cleveland Containers. I am confident that they will fully support our customers in the south as they have already demonstrated that they are excellent additions to our growing sales team.

Johnathan Bulmer, Managing Director of Cleveland Containers
Need Our Help?
Talk to us about your shipping container project today...
You may also be interested in...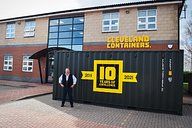 This February marks the 10-year anniversary of the Teesside-based shipping container supplier firm, which has grown from strength to strength and achieved record turnover.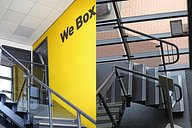 Starting 2020 with a bang, Cleveland Containers has officially moved into our new head office and have opened our new depot!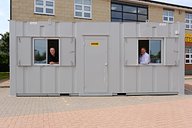 After achieving a record breaking year of sales, Cleveland Containers have invested in a new fleet of site accommodation units.