The company was founded in 2011 by Johnathan and Jane Bulmer, whose previous experience in the transport and logistics sector gave them the knowledge and drive to set up Cleveland Containers.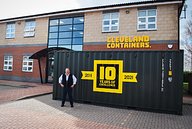 An investment from UK Steel Enterprise in 2015, made up of a £50,000 loan and a £50,000 grant provided a substantial boost to the company, as it enabled us to take on more skilled and experienced staff and double the workforce.
We have grown into the largest and most competitive container sales and hire business in the country, with 15 depots across the UK to support our increasing list of customers.
It feels fantastic to say that we have now been in business for ten years. We have achieved some incredible targets over the past decade, and this is all down to the efforts of our loyal, hardworking and ever-growing team. I look to the future with excitement and can't wait to see what we can accomplish next.

Johnathan Bulmer, Founder and Managing Director of Cleveland Containers
We recently invested £1.2m into a new 6,000 square foot head office at Preston Farm Industrial Estate in Stockton-on-Tees, and a 2.6-acre depot and workshop in Grangetown, Middlesbrough, which will allow for further growth as demand for our containers continues to increase.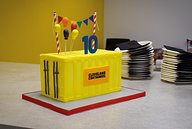 2020 saw us deliver a record-breaking 15,000+ shipping containers to customers across the country, which was a massive 61% increase on the previous year. We are also projected to increase our revenue by 78% when our financial year ends in February 2021.
In a time that saw many jobs lost due to the pandemic, we were able to expand our workforce in various departments and are delighted to now have a total of 54 employees at our Stockton office and Middlesbrough depot.
Going forward, we are looking to venture deeper into the site accommodation market, supplying businesses with new and used offices and other convenience units, such as canteens, toilet blocks and smoking shelters. Additionally, we would also like to expand our hire fleet, enabling our customers to rent a greater choice of temporary and long-term facilities.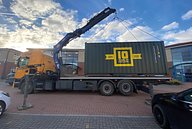 We also have some exciting new products that are exclusive to us here at Cleveland Containers including a tri-door system, an innovative design that will transform the way consumers use our containers. This option still allows for full access at the rear but also provides an additional single-door entry point at the front.
Furthermore, we are extending our range of coloured containers, adding the colour RAL 5010 to our fleet which is a lighter shade of blue than what we currently stock. This gives companies who already own this colour the opportunity to continue purchasing from us.
Here at Cleveland Containers, reaching this milestone has allowed us to reflect on our first decade in business. We are so proud of how much the company has grown and developed over the years and are extremely excited for what the future holds.
Need Our Help?
Talk to us about your shipping container project today...
You may also be interested in...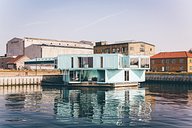 Do you need planning permission for your shipping container home? We discuss what it is, when you need it and how to apply.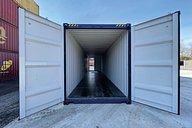 Always striving to be innovative and constantly expand our range, Cleveland Containers are excited to be the first container supplier in the UK to offer this new product to the market.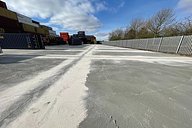 Cleveland Containers invest £100,000 in their Middlesbrough depot by improving the groundworks through laying concrete to increase storage space to house more containers.