The new branding encompasses our core values of the business, we have the largest stock, widest distribution, strongest credentials, fastest deliveries and smartest designers.
These five brand messages when put together mean 'We Box Clever', our new company slogan. The new logo is simple, bold and strong, very much like the shipping containers we sell.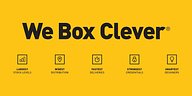 Along with the new brand, the website has been redesigned and featuring a more streamlined and simplified design, with improved functionality and enriched content which will allow our customers a better user experience.
To celebrate its 15th anniversary, Cleveland Containers has enhanced and updated its logo and created a secondary logo to be used across all social media platforms.
The new site makes it easier for our clients to make well-informed decisions about their products, needs, and goals.
We are thrilled to debut our new brand and company website to our customers, clients, partners, media, and visitors who are looking to understand the breadth of our products and services. We are committed to delivering an excellent service to our clients and website users. Our new website will be updated on a regular basis with news of product launches, business activity, and corporate milestones.

Johnathan Bulmer, Managing Director at Cleveland Containers
The new website has a clean uncluttered design, improved functionality, and enhanced rich content which focussing on our mission to provide an excellent user experience for its clients.
Need our help?
Talk to us about your container project today...
You may also be interested in...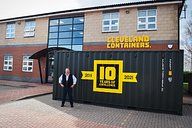 This February marks the 10-year anniversary of the Teesside-based shipping container supplier firm, which has grown from strength to strength and achieved record turnover.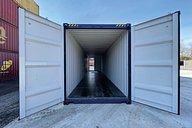 Always striving to be innovative and constantly expand our range, Cleveland Containers are excited to be the first container supplier in the UK to offer this new product to the market.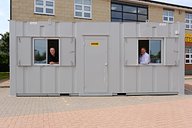 After achieving a record breaking year of sales, Cleveland Containers have invested in a new fleet of site accommodation units.