The new tri-door shipping container features the traditional double doors at one end, but also a single-door entry point at the other, making it ideal for situations where additional access is required.
With the standard container, it can often be quite difficult to reach anything at the far end due to the single access point. This range is particularly useful for those needing to store their stock for longer periods of time or require access to both ends of the container, as the double access points make it easier to manage and maintain stock levels or reach desired goods at short notice.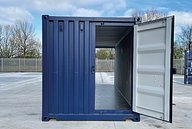 The new (one trip) tri-door system is available to purchase now in both 20ft standard and 40ft high cube options and in RAL colours 6007, 5013, and 5010.
We are always aiming to be at the forefront of the market, embracing new products in order to provide our customers with a broader selection of options. These new tri-door containers are an excellent addition to our current range and I'm positive that they will come in extremely useful for many businesses.

Johnathan Bulmer, Managing Director at Cleveland Containers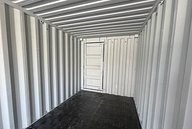 The design of the tri-door container lends itself to the possibility of having a partition wall installed to separate the unit into two sections.
This could be a practical solution for our self-storage customers, as an internal wall can transform the container into two separate stores. This would be beneficial for those who only have a small number of items to store and do not need the space a full-sized container provides.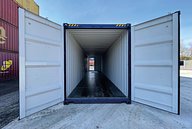 Whichever way the tri-door containers are put to use, we are certain that the addition of an extra door will be a desirable and advantageous feature for many, and we are delighted to be introducing them to our range of stock.
Need Our Help?
Talk to us about your shipping container project today...
You may also be interested in...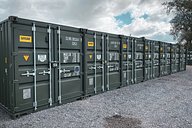 Following the launch of the Container Traders and Innovators Association (CTIA) in 2017, we soon became an accredited member. The CTIA has since evolved into the Container Self-Storage & Traders Association (CSTA).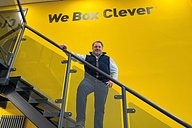 The SME National Business Awards 2020 nomination follows 350% growth for Cleveland Containers.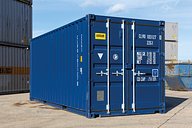 Have you decided to buy or hire a shipping container but you don't know which size you need? Don't worry, we're going to explain everything…