We recently recruited Darren Hughes, to take care of the depot at the firm and Lewis Pennicott, as marketing manager.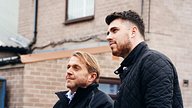 Darren has been brought into the company to look after the depot and brings 20 years of container industry experience with him.
He is excited about this new venture and believes his experience with containers can help us to grow and develop as a company.
He said: "My aim is to raise the profile of Cleveland Containers, offering a wider range of services not only with container repairs, but new builds.
"As a company, we're looking to help more with conversions and small business ideas, opening up new possibilities in the container industry.
"There is a lot you can do with containers and we intend to offer more to the container industry than our competitors, while maintaining a very high standard."
Lewis joins the Cleveland Containers family with a wealth of experience in his field, having previously been down the entrepreneurial path and then working for a well-established architectural practice.
He has already got stuck in with his new role, being the driving force behind the development of the new website and making big changes to the company's online advertising which has doubled enquires and sales on the previous year.
The former Teesside University student, said: "Coming from a marketing assistant role, I am very excited to take on the challenge of marketing manager for Cleveland Containers.
"My aim is to increase brand awareness through modern marketing techniques and make Cleveland Containers the stand out market leader in the UK Shipping Container sales and hire industry."
With these two new additions to the team, owner, Jonathan Bulmer, believes the future is looking bright for us.
He said: "We are really excited to have two new, crucial members of staff join us at this time.
"They will help raise our profile across the country by improving our service to customers, expanding our product offerings and actively raising our website standards and media presence.
"Lewis was given the task of rebuilding our website and improving our branding, as well as marketing our expanding product range and Darren has a wealth of knowledge in the container industry and will strengthen our depot and fabrication business.
"He will also allow us to release Dave Sweet, who be able to focus on transport and customer service.
"As well as gaining new employees, we have recently upgraded out IT systems with a fully integrated CRM and account operating system, so this really is an exciting time for the business and our loyal team."
Need our help?
Talk to us about your container project today...
You may also be interested in...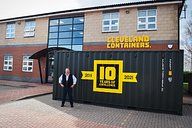 This February marks the 10-year anniversary of the Teesside-based shipping container supplier firm, which has grown from strength to strength and achieved record turnover.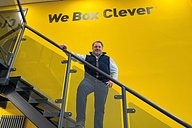 The SME National Business Awards 2020 nomination follows 350% growth for Cleveland Containers.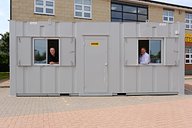 After achieving a record breaking year of sales, Cleveland Containers have invested in a new fleet of site accommodation units.