The category is described as 'an award for a leader who has kept their team motivated, informed and inspired showing exceptional leadership skills throughout these difficult times'.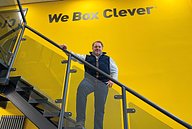 Once we researched the Lockdown Leader category in the SME National Business Awards, it was a no brainer to nominate Johnathan. His leadership skills are second to none, even when we were hit with national lockdown rules only a couple of weeks after our head office move, Johnathan worked quickly with the team to ensure sales continued to be constant and we could all work business as usual. This mentality inspired our team to repeatedly achieve and break records weekly, with aspirational targets being met with ease. We're becoming a market leader and it's largely down to Johnathan and his invaluable industry knowledge.

Lewis Pennicott, Marketing Manager at Cleveland Containers
As reported previously, Cleveland Containers had supplied over 9000 shipping containers in 2019. As 2020 ended, we supplied a record-breaking 14,500+ containers to various customers across the UK.
I'm honoured to have been nominated and to be a chosen finalist brings me great joy. Since March, we have worked tirelessly to not only supply all our customers but to keep our team motivated and working together seamlessly.

Johnathan Bulmer, Managing Director of Cleveland Containers
In 2020 we have repeatedly expanded our workforce with 10 new members of staff expanding its marketing, transport, sales and accounts team.
With various new starters joining us throughout 2020, we endeavoured to keep our community spirit through our workforce. Having these strong united values has enabled us to continue securing new customers and supplying a high-quality service to our existing customers.

Johnathan Bulmer, Managing Director of Cleveland Container
We established a number of successful contracts throughout 2020 with national companies and carrying out some bespoke projects such as creating 10 bespoke built hotel rooms for Gulliver's Valley, supplying bespoke containers to STACK Seaburn, building a confined space training unit for Openreach, and many more.
Need Our Help?
Talk to us about your shipping container project today...
You may also be interested in...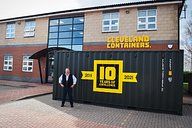 This February marks the 10-year anniversary of the Teesside-based shipping container supplier firm, which has grown from strength to strength and achieved record turnover.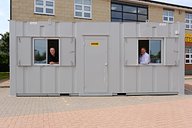 After achieving a record breaking year of sales, Cleveland Containers have invested in a new fleet of site accommodation units.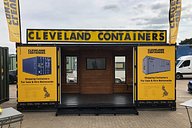 Side opening shipping containers are an extremely useful option for businesses due to the increased access along the entire length, improving efficiency and conversion potential.