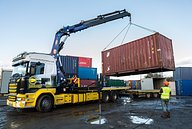 Each order placed with us is for a unique task and requires considering several different aspects to ensure you are able to make the most out of your container.
At Cleveland Containers, we really love nothing more than delivering our containers all over the UK, but we can only do this successfully with your help and cooperation.
If a delivery is attempted and cannot be completed, you as the customer are liable for any costs this will incur. Therefore it is in your best interest to help us out as much as you can.
Before getting in touch with us about an order, it's important to make sure you're fully prepared to be able to receive your container and understand exactly what is involved in the process.
Here are a list of tips which we have put together to help you:

Assess the site
In order to get a container delivered properly, an assessment of the site may be needed to establish whether access is possible. Keep this in mind, as it is your responsibility to ensure appropriate access to the site for an artic or rigid vehicle.
Spoken to your local planning office?
Make sure you have the assurance of your local planning office and anyone nearby who could be affected by the arrival of your container. While containers are considered temporary structures and are usually never subjected to planning laws, it's best to keep those affected informed before arranging any deliveries with us.
Check the ground
Most shipping containers require a solid level foundation with approximately five foot clearance to allow the doors to be opened. When preparing your site for the container, please keep this in mind. To prevent rust, supports like concrete bases, flag stones or railway sleepers can help protect the bottom of the container.
Are there any obstacles?
Be sure to inform us of any obstacles we might need to deal with when we deliver the container. If there are any obstacles, such as fences or walls, you made need to provide photos to give us a better idea about how to handle them.
Need Our Help?
Talk to us about your shipping container project today...
You may also be interested in...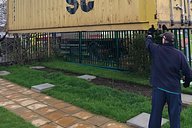 We explain what you need to put under a shipping container for a long lasting, even foundation.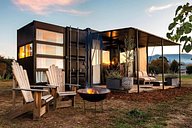 Shipping container houses are becoming increasingly more popular with the boom of tiny homes and the ability to create a diverse living space, so, how much does it cost to create one?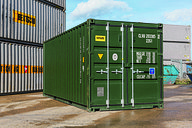 With the frequent question being asked 'what is the difference between new and used shipping containers?