Here at Cleveland Containers, we take pride in the projects which we take part in. Using shipping containers for bespoke projects is something we have great experience in, from providing the containers to the fabrication.
In 2017 Cleveland Containers were approached by Gulliver's Kingdom, Gulliver's Kingdom is a family run children's theme park located in Bath, England. With over 80 rides, attractions Gulliver's is the perfect family day out. The plan was for Cleveland Containers to create bespoke sized bedrooms using 26ft by 12ft shipping containers. The bedrooms are pirate themed, giving a fun experience for whoever stays the night!
There are four rooms on the bottom and four on the top allowing a spacious family room, you would never know that you are sleeping in a steel box!
Shipping containers are a great building material as they are designed to carry cargo overseas, through extreme weather conditions. So, if you are thinking of creating a bespoke building why not get in touch today to discuss it through with our experienced sales team.
Need Our Help?
Talk to us about your shipping container project today...
You may also be interested in...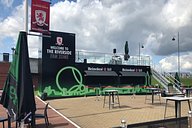 Cleveland Containers and Middlesbrough Football Club came together to create a fan zone space using shipping containers.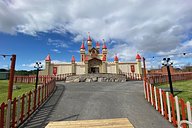 Gulliver's Theme Park Resorts have been providing magic to children since 1978, with a total of 4 theme parks located in Milton Keynes, Warrington, Matlock Bath, and Sheffield.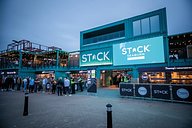 After the success and popularity of STACK Newcastle, the second venue is now open in Seaburn!