The modified shipping containers are situated on the clifftops of Quarrel Sands, surrounded by a picturesque Northumberland coastline, with unrivalled views of the iconic Bass Rock.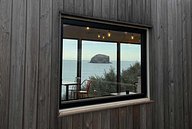 Funded by the Scottish Enterprise agency, DRIFT is a farm diversification project exclusively selling only local or Scottish produce, which opened its doors officially in June 2018. DRIFT is owned and run by a local entrepreneurial couple, Jo and Stuart McNicol, who also have their own family farm located roughly half a mile from the eatery. The business has rapidly gained popularity thanks to the 'homegrown' treats on offer and the exceptional 'instagrammable' views, with over 80,000 visitors in 2019 from across the UK and even travelling from New Zealand!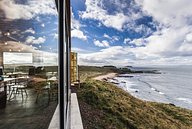 Transforming the containers into the bespoke modern cafe, DRIFT features a partially clad exterior, with fitted electrics and multiple full height windows framing the stunning views surrounding the cafe. However, DRIFT has kept multiple industrial elements that are typically associated with containers such as preserving the original container doors and only painting the interior, keeping the corrugated metal walls visible.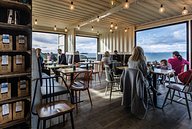 When interviewed for Scotsman Food and Drink, owner Jo proudly discussed the unique oceanside café – "There is nowhere quite like DRIFT in relation to its offer, its location and its unique set up. It has been built out of love and something we are incredibly proud of."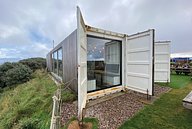 Not only do they create unique workspaces, using containers to house small businesses, such as DRIFT in 'off the grid' locations, means the structure can be modified off-site and delivered 'ready-made'. This is one of the many reasons why container modifications are chosen over a typical brick and mortar structure.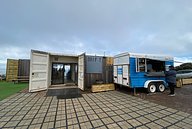 Typically, the lifespan of a used container can last over 20 years from the date of purchase, therefore their sturdy and resilient structure makes it an ideal solution for businesses like DRIFT which are prone to harsh weather conditions from the North Sea.
If you're wanting unique business premises or looking for alternative workspace then get in touch!
Need Our Help?
Talk to us about your shipping container project today...
You may also be interested in...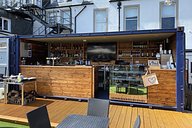 "The best business decision I've ever made". Sales are set to soar for the North Berwick B&B following the launch of its side opening container bar.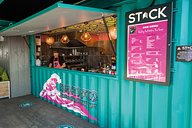 Make sure your hospitality business is ready to overcome the post lock-down queues with our ultimate catering shipping container guide!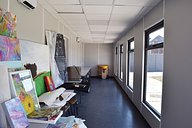 The popular Art and Design school based in Hartlepool contacted Cleveland Containers to design and create two class rooms made from a 40ft high cube and a 20ft high cube container.