Within the past year, the hospitality and catering industry has taken a huge hit due to the pandemic, however, with summer fast approaching and lockdown rules easing, you can make sure your business is ready to overcome the post lock-down queues with our ultimate catering shipping container guide!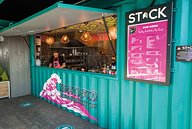 Why Do Shipping Containers Make Good Catering Units?
Shipping containers are more recently becoming converted into bars, restaurants, and even hotels. The versatility of a container allows them to be converted into completely diverse structures, yet still secure and modern. This has provided many businesses with the opportunity to create a unique space bespoke to their needs.
What Are The Benefits of Having a Catering Unit?
Variety
Catering shipping containers can come in a variety of sizes, ranging from 10ft to 40ft, your hospitality container can be exclusive and completely bespoke to your business needs.
If you purchase a new container, you can decide on the exact internal layout of your unit. However, if you don't have the budget to purchase and modify a new container, there are plenty of used catering units in great condition that may be perfect for your day to day runnings. You could even purchase a used container and modify it yourself as a great way to keep costs down!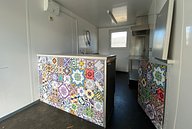 Kitchen and Serving area
Hospitality containers can be used as both a kitchen and serving area, allowing companies to both cook, and serve customers all in one unit.
Bella Mia Kitchen approached us with the requirement that their catering unit had to include a pizza oven. Priding themselves on their wood-fired Neapolitan pizzas, it was imperative that they were able to provide their speciality pizzas and serve customers directly, all from the same container.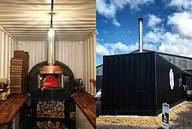 Comply with COVID-19 rules
Container bars and restaurants also comply with lockdown rules, as seen within our case study of No.12 Hotel and Bistro, converting a side opening shipping container has allowed them to continue to operate alongside the re-opening restrictions.
This extra unit allows many businesses to cater to more customers due to the added space of a serving area and kitchen, allowing the capacity of their venue to increase.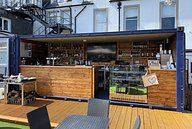 Having an added serving unit in your beer garden can enhance customers' experience, as they will benefit from lesser queuing times and the convenience of having an outdoor bar to get their drinks.
Transportable
Shipping containers are easily transportable, this is another huge benefit of running your hospitality business out of one! Whether your business supplies festivals, or you prefer to move your bar or restaurant around the country, a hospitality container can be the perfect solution. However, this is all dependent on the design as single units can be transported whilst containers that are stacked or modified may be more difficult to relocate.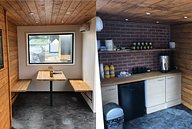 Unique
One of the greatest benefits of owning a container bar, restaurant or any other hospitality unit is that you can transform a new or used container to be completely bespoke to your business.
Through painting, modifying and adding all the amenities your bar or restaurant needs to operate, shipping containers can be completely revamped as seen with the containers we supplied Middlesbrough Football Club Fan Zone.
We were able to transform a new 40ft high cube, a new 10ft high cube to create a two storey fan zone space, featuring a bar, kitchen, serving area and a seating area for fans.
Stack Newcastle and Stack Seaburn are also among the businesses that have taken advantage of the versatility of shipping containers, creating a small community of businesses serving food and drinks from these units.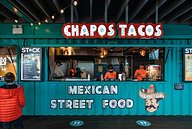 If you would like to get started creating your perfect hospitality unit, contact us today for more information:
0330 005 5111
sales@clevelandcontainers.co.uk
Need Our Help?
Talk to us about your shipping container project today...
You May Also Like..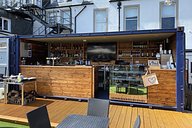 "The best business decision I've ever made". Sales are set to soar for the North Berwick B&B following the launch of its side opening container bar.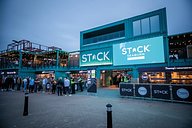 After the success and popularity of STACK Newcastle, the second venue is now open in Seaburn!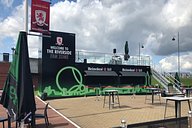 Cleveland Containers and Middlesbrough Football Club came together to create a fan zone space using shipping containers.