We were the sole shipping container supplier for the STACK project and we were very happy to be involved in supplying the containers and helping with the fabrication for the eco-friendly and cost-effective container village.
On Friday 14th the Cleveland containers team went to visit STACK! Below are some thoughts on the community hub:
"It's been a really exciting challenge, in fact it is one of our biggest projects to date. It's such an amazing thing for the heart of Newcastle and we are proud of the challenges we have achieved through working with stack." - Eddie Rees, Conversions Manager
"We always love receiving enquiries that are exciting like this one. Supplying the containers and fabrication for stack is such an achievement for us. When we visited stack on Friday we were overwhelmed and proud of how the whole project has come together and we look forward to more future projects like this one." - Lewis Pennicott, Marketing Manager
Don't just take our word for it, take a look at the images we took whilst we were there.
With the new addition of an ice bar and various places to eat, whether you want to grab and go or sit and have your meal, STACK is a fantastic spot for a day out or evening with your friends and family.
If you fancy a unique, fun and exciting trip out to STACK, head on over today:
STACK NEWCASTLE
OLD ODEON SITE
PILGRIM STREET
NEWCASTLE UPON TYNE
NE1 6QE
Need Our Help?
Talk to us about your shipping container project today...
You may also be interested in...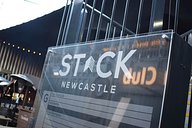 We are proud to have been the sole supplier of containers for the first shipping container village in the North East!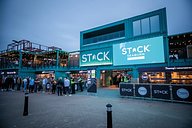 After the success and popularity of STACK Newcastle, the second venue is now open in Seaburn!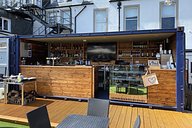 "The best business decision I've ever made". Sales are set to soar for the North Berwick B&B following the launch of its side opening container bar.