The pop-up shops and restaurants are made from used containers, they are eco-friendly, cost effective and have been constructed on Pilgrim Street which was once the home to the old Odeon Cinema.
Whether you fancy a bite to eat, a drink or a shop around, Stack has it all.
This new and exciting container village is very unique and offers a very different experience for everyone. The restaurants here offer an array of different flavours from South America, Far East, Italy and Deep South. If you don't fancy a bite to eat maybe you will enjoy the drinks on offer from some of the bars such as Heineken bar, Havana bar and Beer Box.
When Cleveland Containers received the enquiry for STACK we knew this was something we wanted to be involved with, so how did Cleveland Containers come into it?
We were the sole shipping container supplier for the project and we were super happy to be involved in supplying the containers and helping with the fabrication.
Do you want to visit Stack?
Head on down today:
STACK NEWCASTLE
OLD ODEON SITE
PILGRIM STREET
NEWCASTLE UPON TYNE
NE1 6QE
Need Our Help?
Talk to us about your shipping container project today...
You may also be interested in...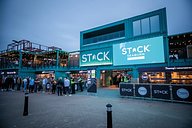 After the success and popularity of STACK Newcastle, the second venue is now open in Seaburn!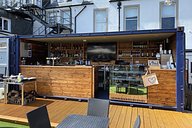 "The best business decision I've ever made". Sales are set to soar for the North Berwick B&B following the launch of its side opening container bar.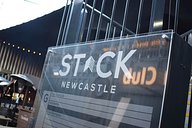 We are proud to have been the sole supplier of containers for the first shipping container village in the North East!