As the sole shipping container supplier of the project, we are beyond thrilled to be involved in such a unique and exceptional scheme, which is the first of its kind outside of London. The leisure and retail development has been constructed from 60 shipping containers which has proved to be quite a task here at Cleveland Containers.
Managing Director, Johnathan Bulmer states: "It's been a great project to be involved with but it hasn't been without its challenges, the main being the time constraints for such a large project; it's certainly been a project and a half, but we've loved being involved."
Additionally, Eddie Rees, our Sales Manager, the project lead for STACK, said: "The project is something we're so proud to be involved in. We have worked tirelessly to ensure this is completed within the timescales set and I'm really happy with the work to date."
The shipping container village is located in the heart of Newcastle on Pilgrim Street, a place well known for Hadrian's Tipi during the festive period. The opening of the project has been well anticipated and locals have finally received good news that the Official Grand Opening will be on Thursday 16th August 2018. The day will be launched with the coffee shop at 7:30am, with other retailers to follow from 9am. It's rumoured to be a fun-filled day with activities and events running throughout such as yoga demonstrations, food tastings and cooking!
Need Our Help?
Talk to us about your shipping container project today...
You may also be interested in...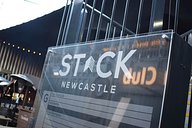 We are proud to have been the sole supplier of containers for the first shipping container village in the North East!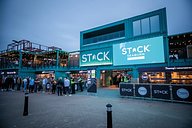 After the success and popularity of STACK Newcastle, the second venue is now open in Seaburn!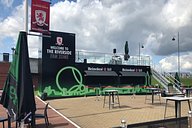 Cleveland Containers and Middlesbrough Football Club came together to create a fan zone space using shipping containers.