20ft Container Office Shell
Our team transformed a 20ft One Trip Container into a customisable office space.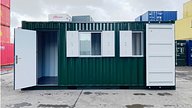 Shipping containers are often modified into an office space as they can be utilised to meet the needs of the business.
Container offices can be transported easily and made quickly with the advantage of customisation.
For this project, the customer approached us requiring the external shell of an office container. Using a 20ft Standard One Trip Container, our modifications team started the fabrication work to make space for a personnel door and two windows.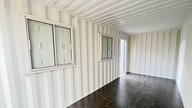 An outwards opening personnel door was installed to the container, which was left hand hinged to align with the positioning of the two windows.
The windows installed were double glazed, providing natural light, and improving heat retention and ventilation. To enhance security of the office, these windows were then equipped with secure shutters.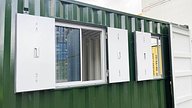 The container was externally re-painted in RAL 6007 (bottle green), including the outward opening personnel door and window shutters, completing the unit ready for the customer to fit-out internally.
Need our help?
Talk to us about your container project today…
You may also be interested in...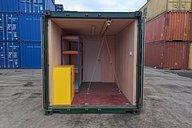 We created a 50:50 Workshop/Store from a 20ft New Tunnel Container to be used on a ship that services wind farms.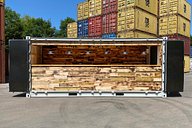 We recently converted a new (one trip) 20ft side opening container into a bespoke hospitality unit.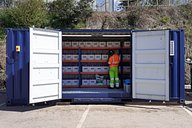 Kier required a unit that was compliant with COSHH regulations and opted for a modified 20ft chemical storage container.