Mitchells & Butlers
The modifications team created a cool and stylish 10ft bar from a shipping container for a pub in Swindon.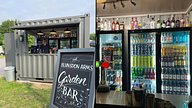 Mitchells and Butlers manage more than 1,000 pubs and restaurants across the UK. They tasked us with creating a chic 10ft bar for a pub in Swindon to use in its outdoor space during the summer months.
For this project, we made several modifications and additions to a 10ft One Trip Container. The cargo doors were removed and replaced with double personnel doors for quick and easy opening and locking, and a serving hatch was installed at the front of the unit which opened outwards to provide shelter for anyone waiting at the bar.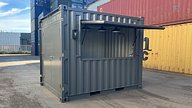 Non-slip flooring was used in the form of black walnut vinyl, to reduce the risk of accidents occurring if there were any spillages inside the container. An easy-clean stainless steel worktop and sink were installed at the serving area, as well as a water heater and spout for the useful provision of instant hot water for cleaning.
Our team worked on the plumbing and electrics of the unit, ensuring plenty of plug sockets were available for appliances. The lighting is a striking feature, with three pendant lights hanging above the serving area and four spotlights at the back.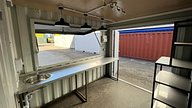 To improve the air flow inside the container, a louvre vent was fitted to one side and the ceiling was coated in the anti-condensation treatment, Grafotherm, and lined with 9mm plywood.
The interior was painted light grey (RAL 7035) whereas the exterior was resprayed in a darker grey (RAL 7043). We added a large stainless steel shelving unit at the back for the accessible storage of glasses and bottles.
Once we had delivered the container, the customer fitted out the unit with multiple fridges. The bar is now an eye-catching addition to the venue's beer garden and an extra revenue generator for the business.
With bar modifications, you can combine creativity and simplicity and fuse it with a modern yet traditional style. This can be done with the use of various materials and colour. It is lovely tailoring them to the customers' needs too, each one we build is bespoke to the customer, and they are so much fun to create.

Charlotte Dowson, Junior CAD Engineer at Cleveland Containers
Interested in a Container Bar?
Let us know what you'd like!
You may also be interested in...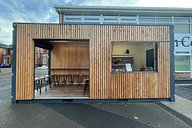 The Centre's new addition is a timber-cladded shipping container that we transformed into a café and seating area.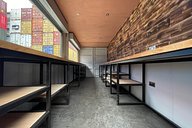 Our modifications team have knocked it out of the park once again, transforming a 20ft Standard One Trip Container into a bar for a holiday park in Somerset.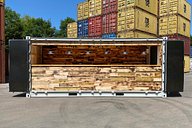 We recently converted a new (one trip) 20ft side opening container into a bespoke hospitality unit.