Tuthill Porsche
This year we modified a 40ft High Cube New (One Trip) container to be used as a store and workshop for Tuthill Porsche at the East African Safari Classic Rally.
Tuthill Porsche is a world-famous Porsche specialist and 911 race, rally and restoration garage with over 35 years' experience building bespoke Porsche road cars and preparing cars for motorsport. The biggest event their customers take part in is the East African Safari Classic Rally in Kenya and they currently have 13 clients entering the rally next year, including the famous American rally driver Ken Block.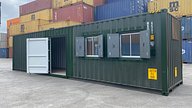 After their previous workshop container was deemed unseaworthy and therefore unable to be transported, they contacted us to create a new mobile workshop/stores facility that could be used by the crew during the event.
This project involved separating the container into two equal sections by installing a timber partition and internal door.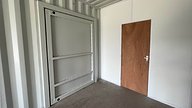 In the first section, we added two large personnel doors on opposite sides of the container, which allows for easier access for the tyre fitters to work. Every evening they strip and fit multiple tyres and redistribute new tyres to all cars before the next day's stages, so large entry and exit points were essential.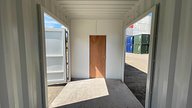 After doing some research into bespoke container modification, Cleveland Containers seemed like the best option. They were brilliant from start to finish, nothing was an issue for James or Eddie, even the last-minute amendments! When the container arrived, it was exactly as designed, I could not fault it."

Calum George, Tuthill Porsche
As you walk through the internal door into the end section, you enter the stores hub, where two crew members work for the whole rally, ensuring every car has the right parts to be repaired and maintained.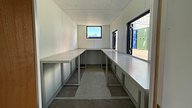 This separate room was insulated with melamine lining, and a gland plate was installed for an aircon unit to be fitted to keep the room cool from the African heat.
Workbenches were added all around the sides to increase the working area, allowing for plenty of storage space underneath, and two anti-vandal windows were installed on one side.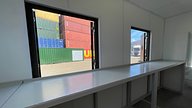 Once completed, the container was delivered to Oxfordshire for the team at Tuthill Porsche to make additional amendments before shipping it to Kenya.
Need our help?
Talk to us about your container project today...
You may also be interested in...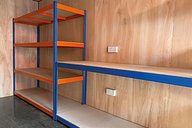 Recently, we were approached by an academy trust based in Hampshire, who needed extra workshop space in which to hold their design & technology lessons.
Revamp spare land and help your business grow - we explain why a shipping container is the asset you never knew you needed.
We recently converted a new (one trip) 20ft side opening container into a bespoke hospitality unit.