Holiday Park Bar
We love a converted container bar! Our modifications team have knocked it out of the park once again, transforming a 20ft Standard One Trip Container into a bar for a holiday park in Somerset.
Featuring two roller shutters along the front and a personnel door on the side for additional access, the container was externally painted in RAL 8008 (mustard yellow) to suit the surroundings of its final location.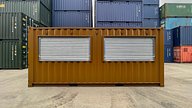 Internally, the back wall was cladded with rough sawn timber that was burned and stained to provide a rustic aesthetic, and solid wood bars were installed along the entirety of both the back and serving area, leaving ample room down the centre for staff to move around comfortably.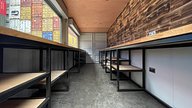 Danish oil was applied to the wooden worktops to protect the counter surface, which becomes food safe when fully cured. Regular applications of the oil will maintain the natural looking finish and increase its durability.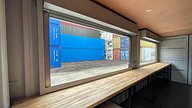 The ceiling was treated with grafotherm, a substance that absorbs moisture to reduce condensation and prevent corrosion. This was then lined with plywood which had been adjusted to feature LED spotlights.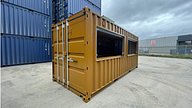 Multiple plug sockets were added to support the requirement for electrical appliances, and a nonslip vinyl was chosen for the floor. This is to support the health and safety of those inside the container when spillages are highly likely and allows for easier cleaning.
Need our help?
Talk to us about your container project today...
You may also be interested in...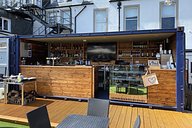 "The best business decision I've ever made". Sales are set to soar for the North Berwick B&B following the launch of its side opening container bar.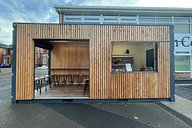 The Centre's new addition is a timber-cladded shipping container that we transformed into a café and seating area.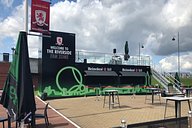 Cleveland Containers and Middlesbrough Football Club came together to create a fan zone space using shipping containers.