Northumbria Army Cadet Force
The non-profit youth organisation needed two modified shipping containers to store and transport equipment.
The Northumbria Army Cadet Force (NACF) is one of the UK's oldest and most successful youth organisations, dependent on adult volunteers to support the 700-strong cadet force across North East England. Through a variety of fun and challenging activities, young people aged between 12 and 17 gain valuable skills and qualifications that can aid their future careers.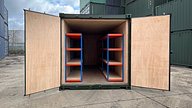 Following a recommendation from another cadet unit, the NACF contacted Cleveland Containers to supply two modified 20ft One Trip Shipping Containers to store equipment used for adventurous training.
A simple modification for our team, both containers were ply lined and insulated, which allows for a consistent temperature to be maintained within the units and reduces the risk of condensation. Three bay racking was installed on both sides of the containers to provide plenty of storage space for kit and equipment.
From the very start Cleveland Containers have been professional and helpful throughout.
They have ensured we are advised of best options and have always kept us up to date with any changes during the process.

Wayne Emmerson, Chief Executive Officer at Northumbria Army Cadet Force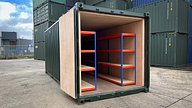 Finally, 25mm steel angles were added to the shelving to create a lip, keeping stored boxes in place during transit as the containers are transported around the UK.
By purchasing the containers and transporting the units themselves, the NACF will reduce its transport costs as it previously would hire multiple heavy goods vehicles. This cost-effective solution has provided the non-profit organisation with a bespoke creation that will save them money going forward.
Need our help?
Talk to us about your container project today...
You may also be interested in...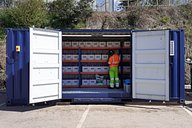 Kier required a unit that was compliant with COSHH regulations and opted for a modified 20ft chemical storage container.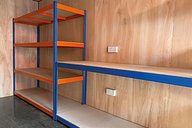 Recently, we were approached by an academy trust based in Hampshire, who needed extra workshop space in which to hold their design & technology lessons.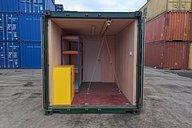 We created a 50:50 Workshop/Store from a 20ft New Tunnel Container to be used on a ship that services wind farms.