Rainton Construction
Rainton Construction required three transformed containers fitted with electrics and their distinctive company colours.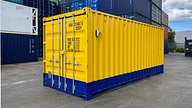 Rainton Construction is a well-established construction company based in the North East of England. Specialising in civil engineering and road surfacing, they also have extensive experience in delivering high-quality, sustainable construction projects.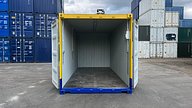 Two double sockets, LED strip lights and a light switch were all installed onto hard spot plates which were stitch welded to the unit. Hard spot plates are always used when installing electrics and lights as they prevent any compromises with the container being wind and water tight due to no direct drilling.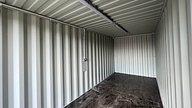 Stitch welding is often the desired method for attaching the hard spot plates as there is more heat control, reducing the risk of warping and distorting the container.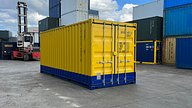 The container was sprayed yellow (RAL 1021) with the bottom section sprayed blue (RAL 5002). Rainton Construction already had skips with this design, so it was essential for these units to match and align with their company colours.
Need our help?
Talk to us about your container project today...
You may also be interested in...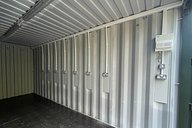 This 20ft container was fitted with 8 double sockets and LED lights, using stitch-welded hard spot plates for heat control.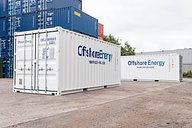 We created two bespoke units from 20ft containers for the energy company to use offshore as an office and workshop.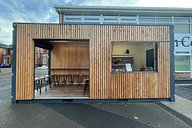 The Centre's new addition is a timber-cladded shipping container that we transformed into a café and seating area.