Rapid Energy
The company, which operates in the temporary boiler sector, has modified multiple shipping containers in-house to become boiler plant rooms.
Rapid Energy is a temporary heating and hot water solutions provider, servicing B2B clients across the UK. They design and build their own mobile packaged boilers in-house for hire and long-term rental.
Shipping containers are an excellent solution to securely house packaged boiler plant rooms as they are robust, weatherproof, and can be manoeuvred into position for temporary use. Typically, packaged boiler plant rooms weigh between 2-6 tonnes, so they require a safe and strong environment to be housed in.
Rapid Energy have purchased 6ft, 8ft and 20ft containers from us, making their own modifications to the units and branding them with company colours and appropriate signage.
Their engineers add louvres to increase airflow for the burner within the room and make modifications for the external flu, which is visible on the outside of the container.
Two low level penetrations for flow and return heating connections are also required, as well as a small penetration for the ariels which are fixed to the roof.
We have purchased containers from a wide variety of suppliers; however, Cleveland has become our preferred choice and first port of call as they provide clear, transparent communication on stock levels, delivery dates and condition of containers.

It is essential that we understand lead times for all the components, especially the containers as we cannot start any work until these arrive. Price is important also, Cleveland is very competitive, but the service and communication has been equally as important in our relationship.

Julien Fougere, Chief Executive Officer at Rapid Energy
Rapid Energy position themselves at the premium end of the boiler hire industry both in terms of the service they provide and the quality of the assets they build. With each mobile boiler plantroom being a significant investment, the quality of the containers they invest in is crucial as they will house the boilers for their entire life span, which is more than 10 years.
Rapid Energy has experienced impressive growth in the last 12 months, increasing its packaged boiler fleet by 125%. The company's CEO, Julien Fougere, has ambitious growth plans to expand on its packaged boiler fleet as well as penetrating different markets.
Need our help?
Talk to us about your container project today...
You may also be interested in...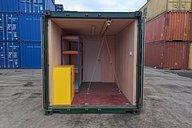 We created a 50:50 Workshop/Store from a 20ft New Tunnel Container to be used on a ship that services wind farms.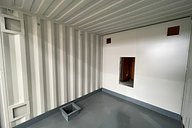 We were tasked by a renewable energy firm to modify a 20ft standard height new (one trip) container so that it could be used at sea to safely house a generator.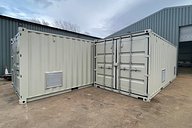 Cremator and incinerator suppliers Facultatieve Technologies came to us as they required a secure storage solution to house their cremation ovens for their customers in Europe.