Here at Cleveland Containers, we provide a variety of sizes and types to customers across the UK, and have a vast repertoire of bespoke container projects under our belt, from holiday accommodation to entire food and drink villages.
For landowners, containers are a brilliant investment. They are strong, wind and water-tight, cost-effective, secure, and can be modified to suit your requirements. Below, are three examples of how we have created and supplied units that have revamped spare land and helped businesses grow.
The demand for self-storage space has increased over recent years, with the UK now in fact making up 41% of the European self-storage market. We supply shipping containers to multiple self-storage companies across the UK, enabling them to meet growing customer demand and expand their businesses.
One such organisation is A1 Self Storage Ltd, a well-known, trustworthy company with four sites located in Darlington and Newton Aycliffe.
Andy, the owner, has been in business for more than seven years and has been a loyal customer since 2017. The storage facilities allow for 24/7 access and are fully fitted with CCTV making the sites secure. Each customer holds their own key and can trust that their belongings will be kept safe and dry.
Setting up your own self-storage firm could be a great way to utilise any spare land you have in order to create an additional revenue stream.
In 2018, we transformed a 30ft x 12ft steel container into a beautiful nature-inspired lodge, situated in Malton, North Yorkshire. Cladding was added to the exterior to obscure the steel, and the interior was installed with an open plan lounge/kitchen area, spacious bedroom and high-spec bathroom.
Easily replicated, the design is suitable for camping, glamping and caravan sites of various sizes, or even as an extra area of living space outside of the home.
This bespoke lodge service is available for all with full control of the size and finish of the lodge. Each lodge is built to current building regulations, fully insulated with Rockwool insulation, and fully electrical certified and NIC, EIC accredited.
Container kitchens have quickly gained popularity with restaurant owners and small businesses due to their affordability, adaptability, and capability to be customised to the owner's requirements.
We supplied mobile catering company, Bella Mia Pizza, with a custom painted 32ft container that they then transformed into a bespoke kitchen. The unit was delivered to its new home in Gloucestershire where it is now a fixed takeaway kitchen, bringing the authentic taste of Italian cuisine to local residents.
The advantages of container kitchens are plentiful. High rental costs are avoided, units can be relocated if needed, and businesses can rest assured that they are being environmentally friendly as they are simply repurposing a container that has already been built.
On another note, shipping containers are being utilised as a vehicle for 'vertical farming', a movement in which produce is grown indoors under LED lights, and packed tightly in a highly controlled environment. This method is climate resilient, removes the need for pesticides or harmful chemicals, and can use up to 95% less water than outdoor farming.
If you've been inspired by any of the examples above, you can chat directly with the Cleveland Containers team at the Farm Business Innovation show, taking place at the NEC, Birmingham, 10-11 November.
Need our help?
Talk to us about your container project today...
You may also be interested in...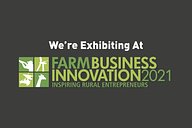 Visit us at stand FB1600 to discover how shipping containers can revamp spare land and help your business flourish.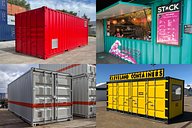 Whether you want your new container to be in your brand's colours, or you would like to bring life back into a dull and tired-looking container, a fresh coat of paint can work wonders.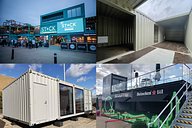 How do you join shipping containers together and what are the benefits of connecting them?