Whilst house prices are on the rise, and getting on the property ladder is a struggle for some, container homes are one of the most cost effective ways of building your dream home. Loved for their modular design and quick assembly, these houses can be the perfect and lower cost fix for those who want to incorporate a modern design on a limited budget.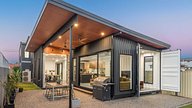 Here are 10 of our favourites that we have seen within the last year that blew us away.
10. Stacked Container Home - Brazil
This luxury brazillian home completely blends luxury living and modern art all in one, with the design intended to resemble a container ship with vast amounts of containers stacked in a disordered heap. We love this home for the tranquil and cool interiors, whilst the outside resembles all the creative and modular designs that can be constructed using shipping containers!
all images © marcelo donadussi

all images © marcelo donadussi

all images © marcelo donadussi

all images © marcelo donadussi

all images © marcelo donadussi
9. Chile Retreat
Two new one-trip shipping containers have made this stunning two bedroom multi-functioning home in Chile. Through the day, the courtyard is a yoga retreat and workspace, whilst by night it transforms to a gathering area for friends and family. What's not to love?
8. Desert Dwelling, USA.
This container home located in Phoenix, Arizona, was constructed from four recycled shipping containers in 2018. Not only does this house have flair and wow-factor, but the interior also radiates luxury, spanning over 2,969 square feet. Consisting of an open plan design featuring three bedrooms and four bathrooms, this home truly is one of our favourites!
7. Casa Incubo
Casa Incubo in Costa Rica has been entirely composed from 8 shipping containers, the design was built with an environmentally sustainable mind, using recycled materials and glass fronts for natural light to beam in, making this home truly unique. Not only does this home feature a breath-taking architectural design, but also surrounds a large cedar tree that acts as the lungs for the surrounding air.
6. Container Mansion, USA.
Built in Colorado, this home boasts the rustic and hard-wearing aesthetic of shipping containers from both the exterior and the interior, and we love it! The bold use of blues and turquoises of the containers create an industrial feel, complimented with luxury touches such as generous balcony, BBQ area and a projector screen for family movie nights.
5. Georgia Woods by Price Street Projects
This container home in Toronto, Canada, is the perfect tropical retreat for anyone lucky enough to stay! The original finish of the containers have been left intact, making the forestry behind it the perfect backdrop for this stunning home. Whilst the outdoor interior is left industrial and rustic, the interior is sleek, modern and fresh making this home the ideal retreat.
4. Beach Box by Andrew Anderson
Fancy something that shouts 'holiday home'? Well, look no further. This Hamptons home is the first of its kind in the area, made entirely from recycled shipping containers, and even features a shipping container pool! The six containers have been entirely transformed in this New York build and includes only the most renewable eco-friendly materials internally.
3. Casa Oruga
Casa Oruga is located in Santiago, Chile, constructed from five 40ft standard containers, six 20ft standard containers, and one 40ft open top container to create the swimming pool. The main purpose of this house is to allow air and light to flow through freely, creating a light and ambient atmosphere against the rustic and industrial tones of the external shipping containers.
2. Two-Storey Shipping Container Home in Brisbane
If you prefer a luxury shipping container home that feels more 'homely', this may be the perfect retreat for you! From the offset, this building looks like a regular home, however the exterior of the property beautifully showcases the character of the shipping containers.
1. P14 House
This is our all time favourite container home, located in Dallas, this modern design truly incorporates all the aspects of the traditional rustic shipping container, whilst still adding style and flair. The architects of this home wanted to flood the interior with as much natural light as possible, making this home not only stunning, but also environmentally friendly due to the amount of upcycling this design incorporates and natural light!
Need Our Help?
Talk to us about your shipping container project today...
You may also be interested in...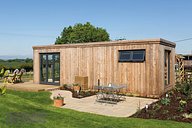 Regardless of whether you purchase a new or used container, cladding can be a great way to disguise that your shipping container was ever built to transport goods at sea, instead, completing transforming your container aesthetically!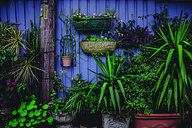 If you're looking to transform your garden, a shipping container could be the perfect investment.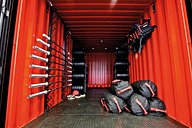 We've found four fantastic examples of workout spaces that have been created within shipping containers.