If this downtime has taught us anything, it's that, in times of boredom, there's nothing we love more than a bit of gardening or some home DIY projects. In recent years, there are plenty of innovative ways people have updated their outside spaces - from repurposing everyday items as planters to creating living walls out of flowers and shrubs.
But what about investing in a shipping container?
If you're looking to make the most of your garden space, it might be time to try something new. Not just reserved for transporting goods or products, shipping containers are also increasingly being used in and around the home for a range of purposes. Follow our top tips on the best ways you can use a shipping container in your garden.
A garden shed built to last
Whether you're a gardening guru, a DIY master or a keen biker, outside storage is essential to keeping your home uncluttered and clean. After all, there's nothing worse than your kitchen cupboards being full of screwdrivers, tyres or mud, along with the usual pots, pans and tins. However, normally made from wood, standard garden sheds aren't always the best choice for the wet and windy British weather, which can cause them to deteriorate and rot over time.
If you're looking for a sturdier and safer option, a garden shed shipping container could be ideal. Not only are they made from strong steel, making them strong and robust, they also provide a safer alternative to the standard wooden offering, and are less prone to break-ins. This offers peace of mind for those who might be storing expensive items, or for anyone who lives in a crime hotspot.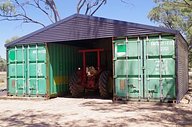 Build your own futuristic greenhouse
There's something so fulfilling about growing your own fruit and veg at home, however, home growing often requires space and an optimal environment - not ideal if you live in the UK. Container farming is becoming increasingly popular and the same principles can be used for growing at home. Shipping containers provide an abundance of space for their footprint, making them ideal for anyone looking to build a garden greenhouse that takes up minimal space. A sustainable solution, you can convert a used shipping container into a vertical garden with a few modifications.
Unlike traditional offerings, in container greenhouses, you can grow plants vertically by utilising hydroponic technology - a high-tech growing method that allows plants to grow in water rich in nutrients, rather than in soil. These plants are grown inside the container, where red and blue LED lights are installed to mimic the sun's rays and to allow the plants to get the right nutrients.
To make the most of your space, and to grow a larger variety of produce, gardeners can also install a greenhouse structure on the top of the container. This structure utilises the same hydrophilic technology and provides the perfect environment to grow produce, without being exposed to air pollution, weather changes or pest infestations.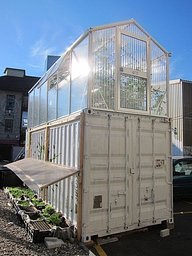 Add extra space to your home with a shipping container garden room
It's no secret that lack of space in your home can be frustrating. If you have found yourself longingly looking up houses online or considering a kitchen extension, we have the perfect solution. It is possible to extend your home without having to deal with the headache that is planning permission and the costs that go along with it. All you need is a shipping container to create your very own bespoke garden room.
Not only are they a cheaper option than building from scratch but, as they're made from strong steel, they're durable and able to withstand all weather conditions. Also, as they don't require fixed foundations, your container can simply be picked up and taken elsewhere if you move. This makes shipping containers a simple, cost-effective way to add additional space to your home.
To create the perfect shipping container garden room, you can install insulated panels to reduce noise and keep heat in, along with proper flooring, electrics and glass doors and windows to keep you connected to the rest of your garden.

Don't forget about the exterior!
A large metal structure might not be the most aesthetically pleasing, but there's plenty you can do to help your converted container look in place in the rest of your garden. If you want to soften the appearance of your shipping container for a more natural look, wooden cladding is a popular choice and can be fitted to the outside of your container and treated to match your garden. Similarly, utilising the outside of your container by installing vertical tiers to grow plants helps to make it blend into the rest of your garden. For those who favour a more minimal look, a simple coat of paint may be enough.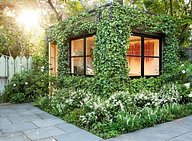 No matter your requirements, utilising a shipping container in your garden could be the key to creating a space you love and that works for you. We stock a wide variety of shipping containers for sale, while we also offer a range of bespoke shipping containers to suit every need. If you have any questions or want to chat with our team, contact us now, or to find out more visit our blog.
Need Our Help?
Talk to us about your shipping container project today...
You may also be interested in...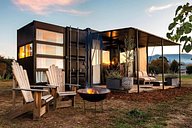 Shipping container houses are becoming increasingly more popular with the boom of tiny homes and the ability to create a diverse living space, so, how much does it cost to create one?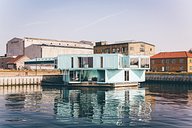 Do you need planning permission for your shipping container home? We discuss what it is, when you need it and how to apply.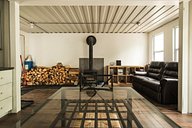 For many, a shipping container home may not sound very appealing but for us a container home is a very positive thing, it can be more cost-effective, built quickly and can also be eco-friendly.