Outdoor training is a popular concept within the fitness industry, but one downside can be finding a suitable place to work out that has somewhere secure to keep your equipment. You may find the perfect hub, but the outdoor space might not be great. Shipping container modifications mean that you can combine storage and a workout zone in one, in the perfect location!
The Gym Pod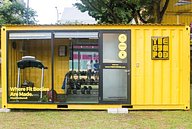 In Singapore, a company introduced a semi-private, 24-hour gym pod which can be hired at an hourly or daily rate. There are several great features of The Gym Pod, it can accommodate up to three people and is fully fitted with gym equipment and air conditioning. It has been painted bright yellow and includes a glass front, which is on brand and shows off the purpose of the container to passers-by.
FITBOX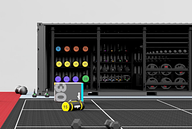 Another great concept is by Origin Fitness. FITBOX is designed to give its customers the equipment they need to deliver quality training outside of the traditional gym space. The FITBOX is described as an indoor equipment storage solution and an outdoor training zone; which can be customised to suit your needs. The shipping container is 20ft long and includes racking for all the equipment needed for an intense outdoor training session.
Custom Crossfit™ Gym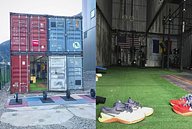 Bespoke containers are also popular for gym-goers. A Crossfit™ instructor from Andorra @enricclosa, has refurbished his own shipping containers to make a Crossfit™ gym in which to train. This custom build consists of 4 containers in a 2x2 placement. The containers are welded together but fully open on the inside with added structural support, fitted with mirrors on the interior to make the space look huge!
HATLEX Outdoor Container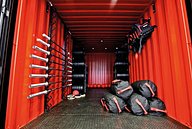 Another functional fitness gym which is slightly more unique is the HATLEX Outdoor Container. HATLEX ensures you have a dedicated space with functional equipment to create exciting, varied workouts. The feature that makes this container special, is that it's not only modified on the inside, but on the outside too! There are a number of steel bars fitted all around the outside for circuits and weight racks, making it the full package for outdoor training.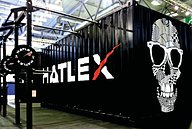 All in all, shipping containers are a great solution for a workout space that is affordable, unique, and will cater to all of your needs.
If you would like to enquire about bespoke shipping containers, then get in touch here:
sales@clevelandcontainers.co.uk
Need Our Help?
Talk to us about your shipping container project today...
You may also be interested in...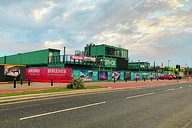 Following the success of STACK Newcastle, Cleveland Containers are proud to be the sole supplier and fabricator of shipping containers for the eagerly anticipated STACK Seaburn.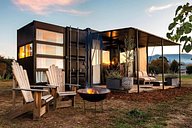 Shipping container houses are becoming increasingly more popular with the boom of tiny homes and the ability to create a diverse living space, so, how much does it cost to create one?
Continuing our 'Small Businesses Being Box Clever' series is DRIFT, a shipping container cafe based at Canty Bay in Scotland.