With todays house prices on the rise, and people looking for cheaper alternatives for housing, we have put together some of our favorite shipping container homes.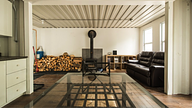 Can you believe this container home was built for less than £27,000? This was built by Joseph Dupuis who was inspired to build his own container home after his friends were buying £400,000 houses, and he felt the process behind buying a house was 'backwards' as most of his friends are now in 35 years' worth of debt. We love how modern and homely this container looks yet still possesses elements of the original shipping container. Can you spot these elements?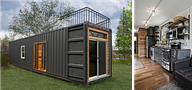 This container home is made from a 40ft high-cube container which is 8' wide and 9.5' tall. This container home also has a roof deck with rails. You can purchase one of these containers for £50,000. The interior of the container has a very modern feel, using hardwood floors and reclaimed wood accent pieces, the inside looks like a modern-day home.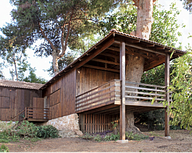 This amazing treehouse has been built by architects in Jerusalem. They wanted to preserve the existing trees so they combined the trees within the perimeter of the house. They have covered the walls of the containers with timber cladding to suit its surroundings and we love the aesthetic of this tree house.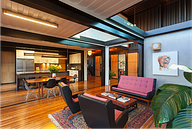 Using 31 shipping containers to create a two leveled home has worked extremely well for Todd Miller. Todd has created one of the largest shipping container homes in Australia. The whole upper level of this container home is a master bedroom! It has four bedrooms and a garage occupying space for two cars. There is also a reading room, gym, a study and even a saltwater pool!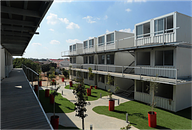 This is a student village containing 150 separate apartments. It took around seven months to build and a total of 36 shipping containers where used. Inside the apartments there is a functional kitchen, a bedroom, a bathroom and a cosy living area. We think this is an amazing idea, it provides a lot of space for the students to live in whilst being cost effective.
Sources:
Need Our Help?
Talk to us about your shipping container project today...
You may also be interested in...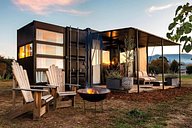 Shipping container houses are becoming increasingly more popular with the boom of tiny homes and the ability to create a diverse living space, so, how much does it cost to create one?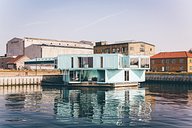 Do you need planning permission for your shipping container home? We discuss what it is, when you need it and how to apply.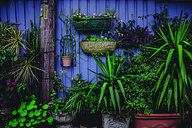 If you're looking to transform your garden, a shipping container could be the perfect investment.