With their versatile nature allowing for real creativity when it comes to design, it paves the way for all manner of innovative projects and concepts. Take a look at some of the most creative uses for shipping containers.
Summer house
Turning a shipping container into a summer house is a great way to utilise your garden, especially in the warmer months. A unique and stylish construction, it's perfect for entertaining guests or simply enjoying time with family.
A key feature of many converted shipping containers is that they let in a lot of natural light, resulting in a very spacious feel - ideal for relaxing and enjoying the surroundings. How about opening it up to create a patio and outdoor seating, or even installing solar panels to help power the electrics?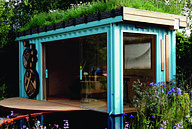 Music studio
Converting a container into a studio for music recording and production is like a dream come true for musicians. No more paying steep rental fees for studio space, you can create the music you want to, whenever you want to. Spark 1 Studios have created their business around thier bespoke container studio.
They have potential for great acoustics and sound quality, as well as full soundproofing - so even if you're not wishing to record professionally, you can simply play somewhere without disturbance.
A shipping container is completely portable, so if you want to record on the road or are moving house it's not an issue, and it can be made secure - so you can be reassured that your equipment and instruments are safe.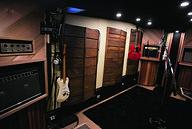 Gym
With ever-busy work and life commitments, it can be tough to stick to a regular fitness regime. And with the rising cost of gym memberships, it's easy to see why some people lose motivation when it comes to keeping fit.
A shipping container gym is the ideal solution for many. The convenience of being situated in a garden or annex means exercising can be much more time efficient; no travelling to and from the gym (and no queuing for machines) means more time to focus on your workout - and perhaps more motivation to go in the first place.
Able to house all manner of gym equipment, from weight lifting machines to bikes and treadmills, their durable and secure nature means equipment is kept safe and protected from outdoor elements, and teamed with large windows and the right placement, you can ensure your workout is always accompanied by great views.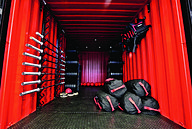 Garden office or studio
Converting a shipping container into a fully-functioning garden office or studio can create an inspiring workspace for your profession or hobby. As garden offices generally don't require planning permission, it can be a quick and easy solution for efficient working from home. Whether you use it as a creative studio or as a traditional office environment, it can be the perfect space to channel your productivity.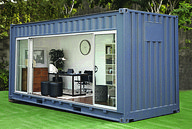 Brewery
The shipping container microbrewery industry is going from strength to strength at the moment, mainly down to the many benefits the format provides. Probably the most appealing of these is the cost-effective nature of a container - it's much cheaper than building a new structure for a brewery, making it a lot more financially viable than bricks and mortar.
Their compact nature means they don't take up much space, and they don't need to be disassembled if moving to a new location. Plus if and when production increases, it's easy to scale up; simply add another container where needed, either stacked on top or adjacent to the existing container.
Take a look at The Veil Brewing Co's brewery in Richmond, VA.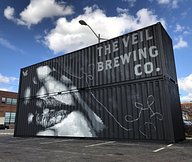 Need Our Help?
Talk to us about your shipping container project today...
You may also be interested in...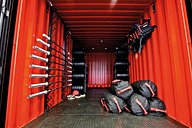 We've found four fantastic examples of workout spaces that have been created within shipping containers.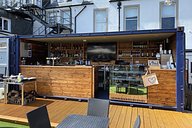 "The best business decision I've ever made". Sales are set to soar for the North Berwick B&B following the launch of its side opening container bar.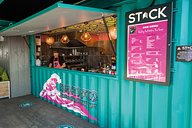 Make sure your hospitality business is ready to overcome the post lock-down queues with our ultimate catering shipping container guide!