The hospitality sector is big business, with restaurants, hotels and bars representing an enormous part the global economy. Whilst this may not come as a surprise to you, the fact that the humble shipping container is making a splashing in the hospitality industry will. Here we showcase some of the most creative, ingenious and downright bizarre uses of shipping containers across the globe.
Let's start with the a place to sleep. With the rise of Airbnb travelling customers are not only looking for cheaper places to stay, but accommodation with more character and uniqueness than a budget hotel. The shipping container fits the specifications for both the owner and the customer staying. They provide cost-effective, versatile spaces to build permanent accommodation in places all over the world.

The Shipping Container, Springwell
The first is located in Cumbria on the edge of the North Pennines area of outstanding natural beauty.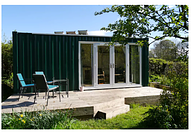 The container's colour and shape ensure it fits seamlessly into the surrounding countryside. With large floor to ceiling doors and windows, shipping containers can let in plenty of natural light into your living space. This space lets you immerse yourself in the great British outdoors, whilst avoiding the pitfalls many suffer with camping like the awkward tent set-up and sore back from the night's sleep on the hard ground.

Modern Beach Container Home, North Carolina
The second converted container is slightly further afield and is just as impressive. Located a short walk from Carolina Beach, in the United States, this container takes beachside property to a whole new level.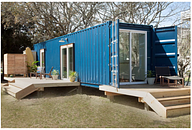 Complete with heating, hot water, air conditioning and Wi-Fi this place really has everything you might need for your extended beach holiday. Measuring 320 feet, this container has enough space for you to eat, sleep and relax in at your own low profile beach location.


Xiang Xiang Xiang Pray House Hotel, Changzhi
If you thought that the first two were impressive then the Xiang Xiang Xiang Pray House Hotel in China takes hospitality to a whole new level with the largest shipping container hotel.
Using 35 shipping containers Beijing firm Tonghe Shanzi Landscape Design have managed to create a boutique hotel in rural China.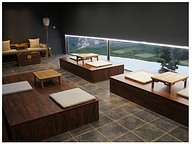 The interior combines both traditional Chinese character with a simplistic modern chic. Each room is fully equipped with electricity, air conditioning, Wi-Fi and hot water so you don't miss out on any home comforts during your stay. A feature of many converted shipping containers is the amount of natural light it can let in. This hotel is no different with each room featuring a large skylight for the light to burst in and bounce off the traditional wooden furnishings.

Not long after finding a place to stay, your mind tends to wander to food. Creative entrepreneurs have used the versatility and affordability of the shipping container to create a mobile pizzeria, restaurant and even an entertainment complex.
Del Popolo - The Mobile Pizzeria, San Francisco
Across the Atlantic it is safe to say that America enjoys pizza even more than Britain. Del Popolo pizzeria in San Francisco understand this and has taken the bold step of modifying a 20ft transatlantic shipping container into a mobile pizzeria.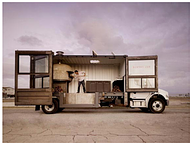 Fully equipped with a wood-fired oven visible through a glass window this container is placed on top of a heavy duty truck. Weighing in at just under 15 tonnes this mammoth mobile restaurant even requires a special license to drive. Extremely popular with locals it travels the bay area providing high-quality fresh pizza to the masses.

The Wahaca Southbank Experiment, London
To say creating a shipping container restaurant is a risk would probably have been an understatement but that is exactly what Wahaca did in 2012 at the Southbank Centre in London.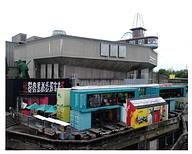 Softroom Architects constructed the restaurant by unconventionally stacking eight shipping containers on one another to creating stunning views across the thames. Vibrant colours coat the outside of the previously dreary containers bringing a latin colour scheme to the build.
Pop Brixton, South London
If you thought one restaurant was impressive then wait until you discover what Pop Brixton has to offer. A temporary project scheduled to stay open until 2020, Pop Brixton is a community initiative that aims to transform a disused plot of land into a valuable part of the Brixton community.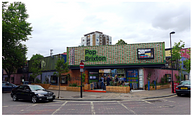 Made entirely from shipping containers the complex has over a dozen street food stalls, four bars and multiple retail and design spaces. Extremely popular within the community and the young population located in Brixton, this project aims to make a positive impact on the wider community. Available for hire this complex can be considered a entertainment complex, community centre and artistic space all rolled into one. Without the humble shipping container projects like this may not exist.
The Future of Shipping Containers In Hospitality
With the number of successful shipping container ventures rising exponentially, we can expect more larger projects to be commissioned all over the world. Just this month 60 shipping containers arrived into Newcastle for the building of Stack; Newcastle's latest shopping and leisure destination. 500 jobs are to be created from the build with bars, retailers, independent cafes, restaurants and even a central plaza set to be featured. The largest project outside london featuring shipping containers, it is expected to help regenerate the area.
Shipping containers are used all over the world for a multitude of purposes, the hospitality industry was one of the first to realise the potential to create artistic and unique spaces from the container, continuing to pioneer and push the boundaries on what we expect from the ordinary shipping container.
Need Our Help?
Talk to us about your shipping container project today...
You may also be interested in...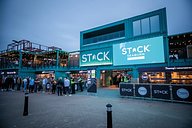 After the success and popularity of STACK Newcastle, the second venue is now open in Seaburn!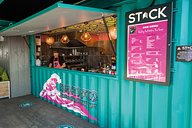 Make sure your hospitality business is ready to overcome the post lock-down queues with our ultimate catering shipping container guide!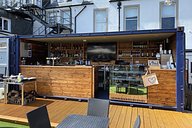 "The best business decision I've ever made". Sales are set to soar for the North Berwick B&B following the launch of its side opening container bar.