The Awards recognise excellence, resourcefulness and creativity within the fields of marketing, digital and PR from all industry sectors operating in the North East, with categories for both agencies and in-house marketing teams.
We have been successfully shortlisted for both the Adaptability Award and Brand Creation of the Year Award, and Lewis Pennicott has been announced as a finalist for Marketing Director of the Year.
In September 2015, Lewis joined as the company's first Marketing Manager, and over the last six years he has project-managed a successful rebrand, three website launches and the introduction of a bespoke CRM system to improve resource management.
Having since been promoted to Marketing Director, it's no surprise that Lewis has been shortlisted for this award, as it is open to all marketing directors who have overall responsibility for their companies marketing strategy and delivery.
Being shortlisted as a finalist for North East Marketing Director of the Year 2021 is a very proud moment for myself and for Cleveland Containers. Ever since joining the company in 2015 I have always been hungry to continually improve our marketing strategy and never once sat back and thought 'That will do'. This mindset is also instilled in my team and we are always pushing for better results month-on-month, year-on-year.

Lewis Pennicott, Marketing Director at Cleveland Containers
The Adaptability Award is for brands that had to adapt quickly due to COVID, demonstrating resilience and innovation over the last 18 months. By swiftly changing our marketing strategy and increasing the team, we were able to persevere through the pandemic and supply a record-breaking 15,886 containers in 2020.
The increased demand for our containers and our continued expansion has seen our net profit grow 340% and our turnover reach £36.3 million, growing the business by 73% in just one year.
We are currently on track to sustain this rapid growth by delivering more than 20,000 containers in 2021 and reaching a record-breaking turnover of £50 million.
To be shortlisted for three marketing awards is incredibly exciting and I am so proud of the team for working extremely hard over the last few years to increase our marketing activity and aid our continued expansion. I am delighted for Lewis that his efforts, achievements, and dedication to the company have been recognised and I'm looking forward to a fantastic evening celebrating in December, whatever the result.

Johnathan Bulmer, Managing Director at Cleveland Containers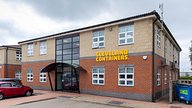 For the Brand Creation of the Year (In-House) Award, nominees must demonstrate a rebrand or creation of a brand identity that has positively contributed to the development of a business. In 2019, we launched a successful rebrand, which included a new logo and brand proposition 'We Box Clever', and this was implemented across all platforms to ensure consistency.
With a strong voice in an otherwise crowded market, our rebrand and new bespoke website saw the total number of enquiries we received rise by 44% in just one year.
The awards ceremony will take place at the Civic Centre in Newcastle on Thursday 2nd December.
Need our help?
Talk to us about your container project today...
You may also be interested in...
We are overjoyed to be announced as finalists in the Teesside Company of the Year category of the North East Business Awards.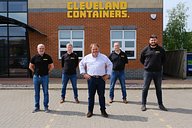 Cleveland Containers has promoted four of its team to director level as it builds on an impressive year of growth.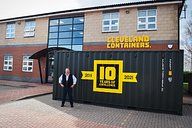 This February marks the 10-year anniversary of the Teesside-based shipping container supplier firm, which has grown from strength to strength and achieved record turnover.