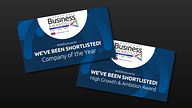 These nominations follow another record-breaking year for Cleveland Containers.
For the High Growth and Ambition Award, businesses must demonstrate rapid growth over the last 12 months in either sales, profit, market share or headcount. Over the last year, our business has grown by another 65% and our headcount has increased again by 28%.
In the past year, we have hit new levels of growth and; I'm proud to say with confidence there's no stopping us now! Our tenacity to deliver the best service has enabled us to grow rapidly, and I'm so proud of the team.

Johnathan Bulmer, Managing Director of Cleveland Containers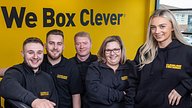 Our second category nomination, the Company of the Year Award recognises outstanding performances by highly successful North East businesses throughout the year.
I'm overjoyed to hear we have been nominated for a second year running. To be named as a finalist for such a well-respected, highly esteemed award celebrating the success of businesses in the region is an honour.

Lewis Pennicott, Marketing Director at Cleveland Containers
We are proud to reveal we're only one of three finalists for the High Growth and Ambition Award and one of four finalists for the Company of the Year Award.
The awards ceremony for Teesside will be at Middlesbrough College on June 23rd, 2022. The winners of each category will then move onto the Grand Final in September competing against the winners from the remaining district heats.
Meet the team
Get to know the Cleveland team working on your order...
You may also be interested in...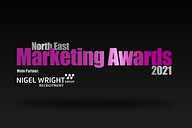 We are delighted to be shortlisted in three categories at this year's long-awaited event.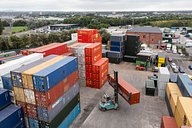 Sales Director, Stephen Collins, reflects on the shipping container industry in 2021, and what he expects to happen in the coming year.