There's no doubt that the Covid-19 pandemic has heavily impacted the entire infrastructure of the shipping container industry. Here at Cleveland Containers, we have certainly felt the knock-on effects over the past two years, working as hard as we can to fulfil orders and supply alternate options where possible.
Amongst ongoing transport issues such as driver shortages, port delays and the Suez Canal blockage, one of the main challenges that emerged last year was the reduced manufacturing capacity in China. Following Chinese New Year in February, we will see factories lower production capacity even further from an average of 600,000 TEU (20ft equivalent unit) per month to 300-350,000 TEU per month, with employees working less hours.
All these factors combined with the increased demand for shipping containers has contributed to the rise in prices over the last two years, and I can see this continuing until at least April this year. We envisage prices plateauing from around this point, but I don't personally believe that we will see the prices rise much further (although, it wouldn't take much extra demand from shipping lines to push the prices up more). We don't expect prices to reduce much neither – if only we had a crystal ball!
Looking forward, we have been strategic in our ordering process to ensure we have plenty of stock arriving throughout the year, so we can meet our customers ongoing demands.
Shipping rates have quadrupled during the pandemic, and it looks like they will remain at these levels throughout 2022. Due to this, it is not currently viable to bring in Mini Sets (10fts and under) from China as they are shipped in empty. We have orders in place to bring Mini Sets in from mainland Europe as an alternative, or self storage operators may opt to use our Tunnel/ Tri Door containers, which have access to both ends and can be fitted with a removable steel partition to form 2 x 10ft areas from a 20ft Tunnel for example.
I am feeling hopeful for the year ahead. Many of the big shipping lines are now ordering larger 23,000+ TEU container vessels, so that will create a strong demand for the factories for the next couple of years.
Yes, there are still some repercussions from the pandemic which won't be resolved overnight, however there are plenty of opportunities for us to grab hold of. We are always looking at both the short and long-term future of the container industry, ensuring we adapt to remain at the forefront of the market in the UK.
Need our help?
Talk to us about your container project today...
You may also be interested in...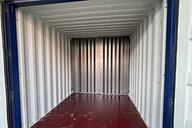 Transform your Tunnel or Tri Door Container into two separate sections by installing an easy-fit removable wall.
Revamp spare land and help your business grow - we explain why a shipping container is the asset you never knew you needed.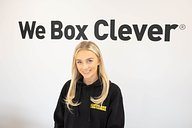 Brooke has a wealth of container experience under her belt and is now taking on her next challenge supporting the launch of our new business division.