We are delighted to announce that in the financial year ending February 2022, we achieved a record-breaking turnover of £60 million, growing the business by 65.2% in just one year.
Not only this, but we've grown our UK market share by selling 17,094 containers - a 14% increase on 2020-21.
We've proudly expanded our workforce in every department, welcoming three new additions to the growing sales team to support the needs of our new and loyal customers.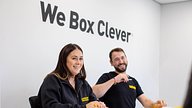 Cleveland Containers has successfully embarked on new ventures over the last twelve months to further develop the business, improving on and expanding the services we provide.
In May 2021, four members of the senior team were promoted to company directors, putting Cleveland Containers in a stronger position to grow into new areas in the coming years. We also opened a second office in the midlands to strengthen our position in Wales and the south of England as the UK's leading container supplier.
Following this, we expanded our product range to include portable site accommodation units such as canteens, offices, and toilet blocks, responding to meet increased demands from the sectors we serve.
To coincide with the introduction of the site accommodation division, we launched a new bespoke website to further improve the user journey, introducing a refined design layout with additional features. This has proved successful as the total number of enquiries we've received has risen by 47.3% in the last year.
Our impressive growth and willingness to invest in our teams has led to us being announced as finalists in the Teesside Company of the Year category at the North East Business Awards for the second year running. We have also been shortlisted for the 'High Growth and Ambition' Award at the same event, which takes place on 23rd June at Middlesbrough College.
Another exciting year lies ahead as we continue to invest in our stock, website, and employees, and we will be launching a national advertising campaign to increase our brand awareness. Keep your eyes peeled!
Meet the Team
Get to know the Cleveland team working on your order...
You may also be interested in...
For the second year running, we're a finalist for Teesside Company of the Year, and we've even been nominated for the Teesside High Growth and Ambition Award!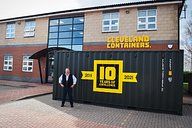 This February marks the 10-year anniversary of the Teesside-based shipping container supplier firm, which has grown from strength to strength and achieved record turnover.
Revamp spare land and help your business grow - we explain why a shipping container is the asset you never knew you needed.