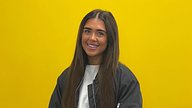 Fran joined Cleveland Containers in 2020 to embark on a Digital Marketing course in association with Baltic Apprenticeships. During the last 18 months, Fran has grown in confidence, gained a range of digital and social media skills, and is constantly learning more about both the world of marketing and the shipping container industry.
Following Fran's recent promotion to Social Media Executive, hear why this was the experience she needed to progress her career…
Why did you choose to do digital marketing?
I chose to go into the field of digital marketing because some of my friends enjoyed doing it at university, but I wanted to do an apprenticeship instead so that I could get more hands-on experience. I love social media and spend a lot of time creating content on my personal accounts so thought it would be something I would enjoy as it is creative and fun. I know that it can lead to so many different opportunities as most businesses use it to increase their brand awareness and promote their products.
What did your role involve as an apprentice?
My daily tasks were varied and too long to list completely however my main duties included assigning new enquiries to our sales team, speaking to customers on LiveChat, updating product pages, prices and offers and so much more. I would also complete apprenticeship assignments and workshops and undertake online marketing courses to further enhance my knowledge. Going forward, I will be primarily looking after all our social media accounts, including TikTok which has grown in popularity in such a short space of time. It's an amazing outlet for our business as it allows our customers to see the people behind the containers and we have a lot of fun making them.
How did you find doing an apprenticeship alongside a full-time job?
I found it challenging but rewarding. I learned so much both on and off the job with all the help and training I received, and I had a lot of support from everyone in the office. There is a good balance between real-life work and study, with enough time to complete apprentice assignments while having a full-time role. It helped me decide that this was the right job for me.
What do you enjoy about working for Cleveland Containers?
Everything! Everyone is so lovely and always there to help you if needed, it's a nice atmosphere and everyone is friendly. The company is so supportive and cares about its employees, with opportunities to grow and progress. Being in the Marketing team is fun and we all work together to come up with different ideas and offer supportive feedback. On a lighter note, I particularly like the office snacks and Domino's Pizza we get on payday. It is such a sociable company; we go out as a team for meals and game nights and attend shows and events.
How has the apprenticeship helped you develop into your new role as Social Media Executive?
It gave me all the tools and skills I needed to begin my new role. I knew nothing before I started so doing an apprenticeship first really helped me gain the knowledge I needed to progress. It gave me confidence and put me in a good position to succeed as the company's first Social Media Executive.
What advice would you give to someone undertaking an apprenticeship?
I would 100% go for it as you can earn a wage whilst gaining a qualification. It's good for people who don't enjoy being in a classroom, and true hands-on experience is a hugely desirable factor employers look for when hiring. The apprenticeship gives you an insight into both the job itself and working life - you can learn a lot and gain many skills to help you in your career. There is so much support and it's a fun way to learn.
Meet the team
Get to know the team behind your order
You may also be interested in...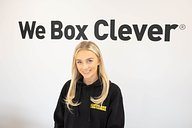 Brooke has a wealth of container experience under her belt and is now taking on her next challenge supporting the launch of our new business division.
Revamp spare land and help your business grow - we explain why a shipping container is the asset you never knew you needed.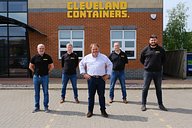 Cleveland Containers has promoted four of its team to director level as it builds on an impressive year of growth.