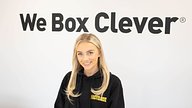 What is your previous employment/background?
My route into the shipping container industry is quite an unconventional one. I went to college after achieving my GCSEs, but I didn't complete my A levels as I wasn't enjoying my time there. My mum was made aware of a maternity cover role doing sales support for a local container supplier and suggested it to me as a possible option for my next step. I was successful in my application and was even kept on past my initial temporary contract. I worked on collections, relocations, and general sales admin for 18 months until I joined the inbound sales team as a Sales Executive, looking after website leads and LiveChat enquiries. In my final year I became a Rehire Specialist, managing national customer accounts who had large hire agreements in place.
Why did you join Cleveland Containers?
Cleveland Containers has grown massively over the past couple of years, and you can see that it is a business that makes big investments in both its stock and staff. When I heard that the company was branching out and launching a new division for site accommodation, I thought it would be a great new challenge for me and an opportunity to move forward within my own career. This is a new venture for the company as well as myself and I really want to get stuck in and establish this side of the business.
The family run nature of Cleveland Containers also really appealed to me. I had worked with some members of the sales team previously and they encouraged me to come on board. I really love the company culture; everyone is friendly and sociable and there are plenty of out of work events to go to.
What are your day-to-day activities?
I look after most of our container hire enquiries, but I also assist with many of our site accommodation requests. Our customers can enquire in several ways including by phone, submitting a website form, sending an email, and via our LiveChat platform. I will always call a customer if they provide a phone number to discuss their needs, which gives me a better understanding of what they're looking for and what units we have that will suit them. I will then send an official quote on an email and follow up to see if I can further assist or if their requirements have changed.
You are part of a new division of the company helping customers with their site accommodation needs, what does this involve?
From construction sites that need portable offices and canteens, to small or start up businesses who haven't got space in their house or don't want to rent a room, we receive enquiries from so many different customers and companies, all with varying needs.
I've had requests for units to be used as extra working space for schools, doctors and vets, canteens for baking businesses and changing rooms for sports clubs. These customers all have storage and site working requirements that we can help with. We really want to push the purchasing and long-term hire of our range of site accommodation units.
What units do you have, and can you build these to customer's requirements?
Currently, we have new units such as 20ft open plan offices and canteens, but we are constantly adding more to the range. We listen to what our customers are requesting, seeing what's in demand, and reacting to this. We have a few variations such as half office/half stores and canteens with a single toilet, and we're bringing in new sizes and variations to the collection. 20ft canteens with a toilet, 32ft and 10ft offices, canteens and changing rooms will all be coming into stock very soon.
Units can be amended to a certain extent depending on the customers' requirements. We can install extras such as toilets, partition walls, electrics, doors, and windows, especially whilst they're still in production.
We also have a constant rotation of used accommodation stock which is helpful for customers who need something immediately or don't have the budget to purchase a new model.
What would you like to achieve here?
My main aim currently is to get settled in and stuck into the role, with the long-term goal being to help grow the hire and site accommodation division of the business. I have worked on container hire for the last six years, I want to look at how to make it easier and quicker to process hire enquiries and orders, bringing in new ideas and using my previous experience to make an impact.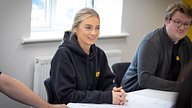 What do you enjoy about working at Cleveland Containers?
I like that everybody is trusted to manage their own working day and focus on the jobs they need to do. There is a lovely atmosphere in the office, we all receive plenty of help and support from each other, and the company directors are out and about which means instant questions can be answered. This makes the key decision-making process quicker and allows us all to work smarter and more efficiently.
What do you enjoy doing in your spare time?
I really enjoy outdoor activities such as walking, hiking, and camping, and I even started horse riding again during lockdown as I loved doing it when I was younger. I go to the same place I went to all those years ago and I even have the same teacher.
We are very social as a company, and I enjoy spending time with my work colleagues outside of the office, whether it's having a drink at the pub on a Friday evening or attending a sponsorship event or awards night.
Tell us a fun fact about yourself:
I can complete a Rubik's cube in under three minutes. It's surprisingly not that difficult to do once you've learned the trick to doing it.
View Our Current Site Accommodation Stock
We have a wide variety of units available immediately...
You may also be interested in...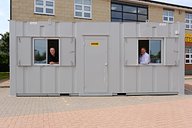 After achieving a record breaking year of sales, Cleveland Containers have invested in a new fleet of site accommodation units.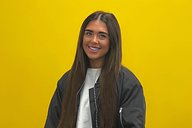 For National Apprenticeship Week, we're shining the spotlight on Social Media Executive Fran who recently completed a Digital Marketing Apprenticeship.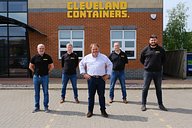 Cleveland Containers has promoted four of its team to director level as it builds on an impressive year of growth.