But, buying a house for the first time doesn't have to be scary at all. There are lots of different ways to save for a deposit, along with a few cheaper alternatives if you're really struggling. Read on for our top tips.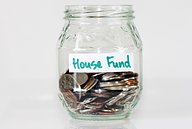 How much do I need to save to buy a house?
When it comes to buying a house for the first time, most of the money you save will go towards a deposit on your new home. While this depends on the property, you will normally have to put down a deposit of at least 5% of the total cost. Generally, the bigger the deposit, the more competitive the rates.
But, there are lots of hidden costs that prospective homeowners need to be mindful of when saving to buy a house
Solicitors fees

Legal fees

Moving costs

Council tax

Home insurance

Repairs and decor
It's also worth noting that, if you decide to buy with someone else such as your partner, you should be able to save more, meaning you'll be able to apply for a bigger mortgage.
Saving for a house: our top tips
While some advice will tell you to hibernate with the lights off for 3 years, buying a house isn't all doom and gloom - and it doesn't mean you have to drastically overhaul your life. Here are a few simple tips to help you build up your deposit:
Cut costs where you can
Making small changes can make a huge difference. Making use of vouchers or special offers means you can continue to enjoy cinema trips or meals out, while bringing your own coffee or lunch to work can help your money to go further. Similarly, making little sacrifices, such as making the switch to own-brand products, shopping at discount stores or curbing frivolous spending, can go a long way towards helping you to save.
Consistency is key
It might be tempting to rely on birthdays, Christmas or your yearly bonus to top up your savings pot. But, when it comes to saving for a house, consistency is key. Setting up a standing order every time you get paid is the best way to ensure your constantly adding to your savings pot.
Make use of technology
There are several apps available, such as Plum, Monzo and Cleo, to help you manage your money. While some round up your depending, depositing the additional pennies in a savings account, others analyse your spending habits to advise what you can, and can't afford. This is a great way to keep tabs on your money while being able to clearly see where you spend the most, so you can, hopefully, cut down.
The downside of these apps is that they don't usually pay interest on the amount you're saving – so, once you've saved, you should transfer the funds to an account that does pay interest.
How can you get a helping hand?
Make use of guarantor mortgages
If you're lucky enough to have family members who can help you out, you may be able to apply for a guarantor mortgage, where a family member offers up their home or savings as collateral, taking on some of the mortgage risks. These mortgages are ideal for those who want to buy, but are on low income and have little savings or a bad credit score. However, it's important to remember that the guarantor is liable if the mortgage isn't paid, and so this type of agreement should only be considered if you have a strong, trusted relationship.
Shared ownership
A great way to get on the property ladder if you can't afford to pay 100% of the mortgage is to make use of the governments' Help to Buy shared ownership scheme. This scheme allows first-time buyers to purchase a part of a new-build house or flat (between 25% and 75%), and then pay a reduced rate of rent on the rest. While some people might not relish the idea of still having a landlord, you can increase your percentage of ownership in the property by buying more shares. This is called staircasing, and once you've staircased to 100%, you become the sole owner of the property.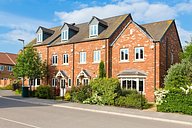 What if I'm not in a position to buy a house outright?
Being able to save is a luxury that some simply can't afford. But, just because you might not be able to save a large deposit, doesn't mean you can't move into a place of your own - there are so many alternative options available.
Shipping container homes
An innovative and low-cost solution, shipping container homes offer something unique to those wondering how to get on the property ladder. An increasingly popular option with first-time buyers, steel shipping containers can be stacked and transformed into a great living space for much cheaper than it costs to buy a brick are mortar home.
Fully customisable and available in a range of sizes, the strong steel structure of a shipping container also means it's a durable and super safe option. But, what about when it comes to a mortgage?
If you're purchasing an already converted shipping container house, a mortgage will work in the same way as with a traditional home, but at much less cost. While those buying land to build a container home on may need to check whether or not they need planning permission first.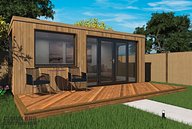 Houseboats
As people look for cheaper and simpler ways to live, another great option is to consider moving to a houseboat. A much cheaper alternative to houses, or even flats, while a bit different, a houseboat can be the perfect option for a first-time buyer and is a cost effective option.
Houseboat mortgages are rare, but they do exist - you just have to contact a specialist firm. However, it is worth noting that most marine finance firms will only lend up to 75% of the cost over a maximum period of 15-years, and owners will have to pay additional residential mooring fees along with general maintenance costs.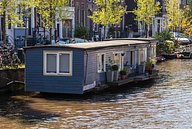 If you're saving for a house, we can help to remove the stress with our wide range of shipping containers for sale. Don't forget to take a look at our blog post on container homes for some great inspiration, or get in contact now to chat with our team.
Image Sources:
House Fund Jar: Unsplash @sandym10
Home: Shutterstock
Container Home: Cleveland Containers
House Boat: Unsplash @dimhou
Need Our Help?
Talk to us about your shipping container project today...
You may also be interested in...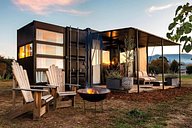 Shipping container houses are becoming increasingly more popular with the boom of tiny homes and the ability to create a diverse living space, so, how much does it cost to create one?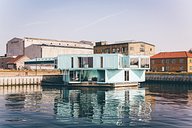 Do you need planning permission for your shipping container home? We discuss what it is, when you need it and how to apply.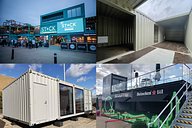 How do you join shipping containers together and what are the benefits of connecting them?