And, while a shipping container might not be the first thing you think of when dreaming of your ideal weekend away, there are also a growing number of shipping container holiday homes popping up across the world.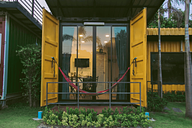 What are the benefits of converting a shipping container into a holiday home?
Due to the current coronavirus pandemic and lockdown restrictions, more and more people are looking to holiday in the UK - in fact, less that one in 10 adults surveyed by the Office for National Statistics said they were likely or very likely to go on holiday abroad this year. So, whether you're looking to cash in on the increasingly popular staycation market, or are simply looking for a holiday home you and your family can enjoy, a shipping container is a great alternative option.
Cost-effective
It's no surprise that creating a holiday home from a shipping container is a much cheaper option than a brick and mortar house. While buying a holiday apartment or cottage in a popular location is likely to set you back upwards of at least £150,000 in contrast, you can build a shipping container home for much less, at around £90,000.
Durable
The lifespan of a shipping container depends entirely on its condition - for example, a used shipping container will obviously last for a shorter amount of time than a brand new version, while, for those that are left untreated and not properly cared for are more likely to form rust. Normally constructed from strong corrugated steel, containers are designed to be heavily loaded and stacked, and are made to withstand harsh conditions and extremely long distances, making them an ideal housing material. In fact, when correctly cared for, a shipping container can last up to 50 years.
Environmentally friendly
There are plenty of second-hand shipping containers for sale, making a shipping container holiday home a great upcycling project. A standard 30ft shipping container weighs around 3.2 tons and reduces the need for building materials such as bricks and cement.
Similarly, you can ensure your holiday home is eco-friendly by making a few simple adjustments. For example, setting up a vegetable garden or compost heap, collecting rainwater, installing solar panels or asking guests to recycle their waste can go a long way towards helping you do your bit for the planet.
What kind of holiday lets can you create from a shipping container?
Due to their material and shape, shipping containers are extremely versatile, allowing them to be used for a range of different purposes and building types. All containers are the same width, are available in only a few heights and use interlocks or stackers to fix containers together, making it easy to create a larger structure or property.
If you're on a smaller budget, a simple studio container apartment is more than enough for short-term holiday rentals - you just have to be clever with your layouts such as investing in foldaway furniture or creating hidden nooks to hide bedrooms and bathrooms.
Want to try one out for yourself? These are the best shipping container holiday lets in the UK currently on AirBnb
Described as 'the perfect destination for complete relaxation and privacy', this stunning container holiday let is nestled in a beautiful private meadow in the heart of Poltimore, Devon, and would make for the ideal romantic getaway. This beautiful conversion even features an indoor fireplace, private bedroom nook and a modern bathroom.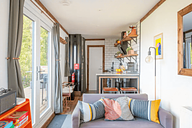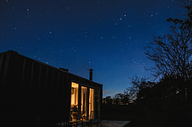 The perfect stargazing spot, this shipping container is Inspired by George Clarke's Amazing Spaces and is the ideal holiday getaway for those looking to go 'off the grid'. Located in the secluded area of Talkin, it features solar panels, a burning stove, sheep's wool insulation and a composting toilet making it ideal for the eco-conscious.
Situated 20 miles from Edinburgh, if you're looking for total peace and quiet, this holiday rental is perfect. Tucked away in the countryside, this compact yet stylish home offers guests the opportunity to switch off from everyday life and connect with nature, and even features its own en-suite and flame-effect heater.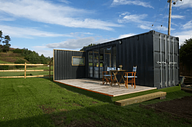 This beautiful holiday let in St Ives offers luxury glamping style accommodation in a stunning converted shipping container. With a laid back boho feel, guests will feel instantly at home in this cosy space, which features a cosy wood-burning stove, a hammock and a full-length bath.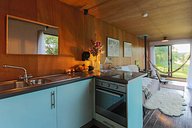 Looking for more information on how to get started with building your own shipping container holiday home? Get in touch with us today!
Need Our Help?
Talk to us about your shipping container project today...
You may also be interested in...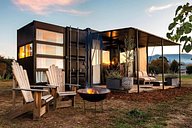 Shipping container houses are becoming increasingly more popular with the boom of tiny homes and the ability to create a diverse living space, so, how much does it cost to create one?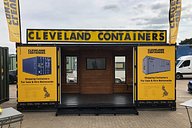 Side opening shipping containers are an extremely useful option for businesses due to the increased access along the entire length, improving efficiency and conversion potential.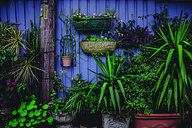 If you're looking to transform your garden, a shipping container could be the perfect investment.