Reign is housed in a modified container, in the creative enterprise hub "Pollard Yard" in the North West. However, that is where the likeliness of a standard steel container ends, from the exterior throughout, their container is on brand and completely personalised to Reign.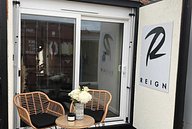 As Alexandra mentioned, the lack of large rental costs means that shipping container businesses are a great idea for start-up businesses or even people who are looking to keep external costs down.
"We chose Pollard Yard as it's great to be surrounded by like-minded creative people, as well as being in an up and coming area close to town without the large rental costs. Moving from a salon to our own space was a no brainer, we have our own small space and can work independently under our own brand Reign."

Alexandra Clare, Co-Owner of Reign Makeup Studio
Need Our Help?
Talk to us about your shipping container project today...
You may also be interested in...
Continuing our 'Small Businesses Being Box Clever' series is DRIFT, a shipping container cafe based at Canty Bay in Scotland.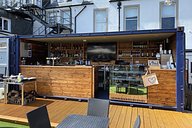 "The best business decision I've ever made". Sales are set to soar for the North Berwick B&B following the launch of its side opening container bar.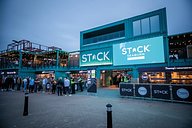 After the success and popularity of STACK Newcastle, the second venue is now open in Seaburn!