If you don't fancy a holiday abroad this year, but you're still craving a luxury getaway, we have the top 5 UK shipping container stays to have you covered.
1. Kip & Nook
Kip & Nook have taken luxury container staycations to new heights, offering 3 types of container lodges and a large barn if a container retreat isn't large enough for all the family, You can experience Yorkshire in style by experiencing it through staying in their luxury shipping container lodges.
Their 'OG Container' features 1 bedroom and a hot tub, stylish interior with a modern-boho twist on container living. This retreat is perfect for anniversaries, birthdays, a night away with your partner, or even to relax and kick back with your friends!
'The Cabin' lodge is completely submerged in the Yorkshire landscape, giving you a tranquil and secluded retreat like no other, with nothing but the great outdoors surrounding you, this is the ultimate serenity. The Cabin also comes complete with a hot tub, space for two guests and an outdoor area to enjoy the breathtaking views.
Finally, their last container hideaway, 'The Baby Bro' is their latest addition, and is truly unique from their other stays. The secluded and secret outdoor shower really sets this cabin apart from their other counterparts, emanating a tropical sanctuary right here in the Yorkshire countryside.
Price per night: Prices start from £200
Pet friendly? Yes.
Check out their Instagram by clicking here.
2. The Huxham Hideaway
The Huxham Hideaway, located in Poltimore, Devon, has reformed the concept of glamping with this luxurious and stunning container lodge. Bespoke panelling and cosy furniture runs throughout the entire container, alongside a fully fitted kitchen, wood burning stove, double bedroom and stunning en-suite bathroom.
This holiday retreat is perfect for visits all year round, with the log burning stove keeping you warm and snug in the winter, whilst the delightful summer nights are to be enjoyed with a BBQ overlooking the Devon Meadows.
Price per night: Prices start from £187
Pet friendly? Yes.
3. GlamNess Luxury Containers
If you're thinking of enjoying the beautiful Scottish terrain and look out for some mythical creatures within the lakes of Loch Ness, GlamNess luxury container lodges incorporate all the joys of secluded container living, whilst also being a stone throw away from Inverness city centre.
Their container pods are inclusive of all your necessities for a tranquil and relaxed getaway, featuring a double bed, en-suite bathroom, kitchenette, sofa and tv area. Each container also comes complete with their own private terrace area, featuring a breathtaking garden view of the UK pastures.
GlamNess are open exclusively for adults only, making this a perfect getaway for those who want to relax and indulge in true container living.
Price per night: Prices start from £79 per night.
Pet friendly? No.
4. Shakas House
Shakas House, located in St. Ives, Cornwall, sleeps up to 4 people and is fully fitted to include a kitchenette, bedroom and bathroom. This boho-chic shipping container has been converted with relaxation at the forefront of the design, in the bathroom you can find a bathtub fitted instead of a shower to kickback and unwind, and a hammock to relax throughout the day.
This home has its own private scenic terrace outdoors for radiant summer nights, and open-plan space to relax and socialise in front of a log burning fire for winter evenings. Whatever your agenda or social plans, Shakas House is the ultimate staycation to enjoy nature and unwind right here in the UK.
Price per night: Prices start from £135
Pet friendly? Yes
5. Lee Wick Farm Cottages and Glamping
Lee Wick Farm, St Osyth, Essex, features two stunning refurbished container lodges, 'CargoPods' that sleep 2 adults and 2 children, making this staycation perfect for all the family. Upon booking, their log-fired hot-tubs can be added at an additional cost if you want to pamper and indulge in the already luxurious CargoPods.
The interior of the pods are a far-cry from their shipping container origins, both featuring a seperate bedroom, bathroom, kitchenette and sitting area. The purple CargoPod boasts its own private orchard, allowing plenty of space for children to run and play, and adults to enjoy. Alternatively, the Green CargoPod is situated upon its own secluded paddock, featuring a large decked area, fantastic to socialise and sunbathe throughout the summer months.
Price per night: Prices start from £75 per night.
Pet friendly? Yes
Interested in getting started setting up your own shipping container staycation rental home? Check out our bespoke lodge conversion to see how we can help you get started today!
Need our help?
Talk to us about your container project today...
You may also be interested in...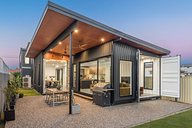 Whether you want to live a minimalist lifestyle, or you just want to leave the hustle and bustle of living in towns and cities behind, container homes are great to create your own retreat!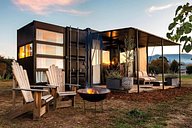 Shipping container houses are becoming increasingly more popular with the boom of tiny homes and the ability to create a diverse living space, so, how much does it cost to create one?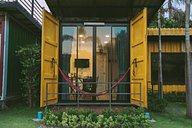 But, what's so great about shipping container holiday homes? We'll explain all.