With lockdown now extended in the UK for at least another three weeks, and the majority of the population now working remotely, creating a home office space that's right for you has never been more important. The tip is creating a space you actually want to work in, and a space in which you can actually get stuff done.
So, if you find yourself spending more time working - even after you've cut out the commute, lunchtime shopping and coffee-machine catch-ups - then it might be time to make a change. Here's how to create a home office to keep you inspired, motivated and, most of all, productive.
Separate your home life from your work life
Being able to clearly distinguish between your personal and working lives is the key to creating balance when working from home. While it can be tempting to lie in bed all day or sit with your legs up on the couch, separating your home and living spaces is the best way to remain productive.
While not everyone has the luxury of setting up an office in a completely separate room, you can still create a home office in a small space. It's all about carving out a distinctly separate space that is for work only, so that you can switch out of 'business mode' once the working day is done.
Creating a home office space doesn't have to be expensive or difficult. Try rearranging your living room furniture and using a curtain to divide the room, or utilising wasted space such as awkward alcoves or unused cupboards to carve out your ideal working environment.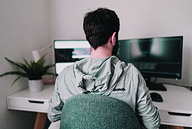 Stay away from distractions
Not only can unwanted noise and distractions prevent us from working productively, but they also contribute to stress and stop us from immersing ourselves fully in our work. You know better than anyone what distracts you the most, keeping this in mind when creating a home office is important. For example, you might have the most room in your kitchen, but it may also be where the rest of your family congregates. Even if you don't have the luxury of a separate office, make sure to set up your workplace in a quiet area of your house, where you won't be distracted.
It's also important to set boundaries to remind the people around you that, while you might be working from home, you still need a working environment to get your job done. You don't have to be contactable at all times - setting your phone to 'do not disturb' and letting people know you're busy and therefore unavailable is perfectly acceptable.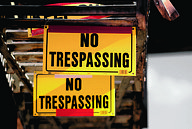 Colour can affect the energy in a room
Did you know that colours have the ability to inspire, calm, heal and even excite? The colours in our environments have an effect on brain function and our mood, and so choosing the right colours when creating a home office can do wonders for your productivity.
The colour you choose depends on what you're looking to feel when you enter your home office. For those with stressful jobs, who might be looking for a calming effect, light blue shades are ideal while green helps to promote emotional wellbeing and is believed to relieve stress. Others may be searching for uplifting and confidence-inspiring colours such as orange and yellow, while those who struggle with motivation when working from home should opt for dark blue hues, which encourage efficiency and decision-making.
Creating a home office on a budget is entirely possible - you don't have to completely overhaul your interiors to reap the benefits of colour psychology. Why not inject colour into your office with your desk accessories, lighting and cushions or by hanging artwork.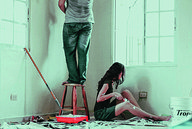 Embrace natural light
Lighting also has a huge impact on our mood, productivity levels and happiness, and research has shown that natural lighting improves productivity while making us calmer. When working remotely, we naturally spend less time outdoors so it's no surprise, then, that when it comes to creating a productive home office, it's crucial to make the most of your natural light.
While we know that most people aren't lucky enough to have views of ambling hills or stunning valleys, having access to natural light and an outside scene can go a huge way towards boosting health and helps us to feel more engaged. If you can, remove any furniture that blocks external light and position your workspace close to a window. Remember to take regular breaks to head outside to stretch your legs, even if it is to do a lap of your garden.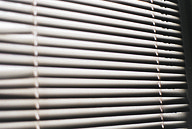 Take it outside
If you're running out of rooms in your house, and are stuck on how to create a home office in a small space, then why not head outside instead? While it might not sound, at first like the most aesthetically pleasing option, a shipping container can make for the perfect extension of your home, and there's plenty you can do to convert your container into a fully-functioning home office.
It's easy to change the external appearance of a shipping container to match the style of your garden. From adding wooden cladding to painting and even including extras such as decking or a terrace, it's easy to integrate the look of a shipping container into your existing garden design.
The perfect option for creating a comfortable and quiet space for you to get some work done, shipping containers are ideal for creating a winning home office.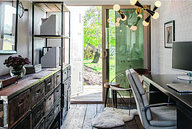 Sources
Container office - https://www.kkellydesigns.com
Whether you're new at home working, or are a seasoned professional, it's no secret that your home office should be an inviting and motivational place. As you have more freedom at home than if you were in an office, it''s all about creating a space that meets your unique requirements, and also motivates you to work. So, if you're looking to upgrade your home office needs, we offer a wide variety of shipping containers for sale, including flat pack containers for the tightest of spaces. Alternatively, you can get in touch with our friendly team to find out more, or for tips, tricks and the latest news, head over to our blog.


0330 005 5666
sales@clevelandcontainers.co.uk
Need Our Help?
Talk to us about your shipping container project today...
You may also be interested in...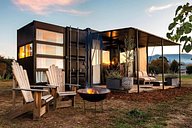 Shipping container houses are becoming increasingly more popular with the boom of tiny homes and the ability to create a diverse living space, so, how much does it cost to create one?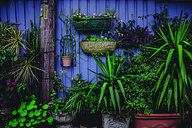 If you're looking to transform your garden, a shipping container could be the perfect investment.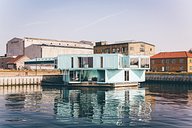 Do you need planning permission for your shipping container home? We discuss what it is, when you need it and how to apply.