The experience has been showcased across 50 cities worldwide. However, in Wellington, Grande Exhibitions have brought the event outdoors projecting Van-Gogh's work on a collection of 52 stacked shipping containers, as opposed to the projection being inside a venue.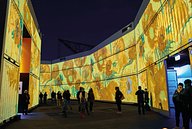 From 28th August until 30th October 2020, visitors will be able to explore the maze of containers which will feature various works from the inspirational Vincent Van Gogh. His art will come alive in a unique fashion, with more than 3,000 images being projected over the many steel boxes/shipping containers that are stacked up to 8 metres high.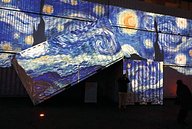 "Synchronized to a powerful classical score, more than 3,000 Van Gogh images at enormous scale create a thrilling display that fills giant screens, walls, columns, ceilings and even the floor – immersing you entirely in the vibrant colours and vivid details that constitute Van Gogh's unique style."

Grande Exhibitions
nly in Wellington New Zealand will you see the fully immersive artwork from Vincent Van Gogh brought to life by Grande Exhibitions. With over 30 shipping containers stacked eight metres high, the Van Gogh Alive exhibition is set to be one of the biggest art displays in 2020. . Copyright: Wellington NZ
During the COVID-19 pandemic, bringing the multi-sensory experience outdoors has ensured the utmost safety for all visitors. The use of the shipping containers provides another factor enabling further adaptability to the art experience.
Grande Exhibitions specialise in designing, creating and producing unique immersive travelling and fixed exhibition experiences.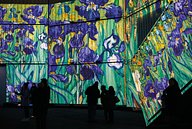 Sources:
https://www.nzherald.co.nz/nz/news/article.cfm?c_id=1&objectid=12360105
https://www.wellingtonnz.com/experience/events/digital-nights-wellington-van-gogh-alive/
Need Our Help?
Talk to us about your shipping container project today...
You may also be interested in...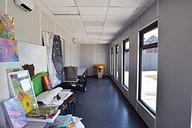 The popular Art and Design school based in Hartlepool contacted Cleveland Containers with a creative container idea, which was to design and create two class rooms made from a 40ft high cube and a 20ft high cube container.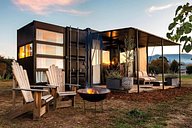 Shipping container houses are becoming increasingly more popular with the boom of tiny homes and the ability to create a diverse living space, so, how much does it cost to create one?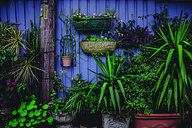 If you're looking to transform your garden, a shipping container could be the perfect investment.