Northumbrian Water
At their Whittledene Water Treatment Works, Northumbria Water needed an external transport hub, so we provided them with a 20ft new container office.
Northumbrian Water Ltd are a water supply company; providing mains water and sewerage service in Northumberland, Tyne and Wear, Durham and parts of North Yorkshire. The firm employs just under 3000 people and operates; 53 water treatment works, 394 water pumping stations, 341 water service reservoirs, 26,200.20km water mains, 410 sewage treatment works, 1,007 sewage pumping stations and 30,106km of sewers.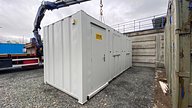 We've supplied a multitude of containers to Northumbrian Water since 2020 across a number of their sites. The orders vary from standard containers to converted chemical stores and site offices.
Northumbrian Water required an external office solution at one of their water treatment works. This solution would act as a reception area for an external team to work from dealing with tanker arrivals and offloads.
As we have tankers regularly at the site, we needed a base for a team outside of the main office to deal with the paperwork and processing for each tanker.

Cleveland Containers provided the perfect solution for us and quick delivery; we wouldn't hesitate to use them again.

David McDermott, Water Supply Area Manager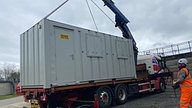 Our site accommodation specialist Brooke assisted the team by providing them with a new premium 20ft office featuring an internal partition converting the office into 60/40 split.
In 2021 we launched our new site accommodation service. This new service enables us to provide units such as; canteens, offices, toilet blocks and smoking shelters. If you require any units for your business, check out our site accommodation stock page or get in touch today.
Need our help?
Talk to us about your container project today...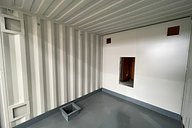 We were tasked by a renewable energy firm to modify a 20ft standard height new (one trip) container so that it could be used at sea to safely house a generator.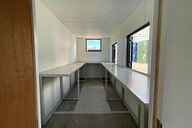 This year we modified a 40ft High Cube New (One Trip) container to be used as a store and workshop for Tuthill Porsche at the East African Safari Classic Rally.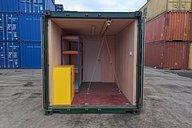 We created a 50:50 Workshop/Store from a 20ft New Tunnel Container to be used on a ship that services wind farms.