Case Studies
Over the last ten years, we've supplied containers to multiple sectors across the UK including the self-storage industry, and worked on a large variety of bespoke builds, modifying containers for a wide range of purposes.
Here, we showcase our favourite and most interesting projects, demonstrating the endless possibilities that can be achieved with container conversions, such as container bars and restaurants, workshops, confined space training containers and even hotels!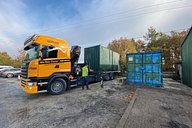 Beamish Park Golf Club, formed in 1906, consists of 10 volunteers and a team of 10 paid staff, who work together to ensure the smooth running of the establishment.